Management Dissertation Topics
Published by Grace Graffin at August 16th, 2021 , Revised On November 17, 2022
Introduction
The subject of management involves an in-depth understanding of the various aspects of business management, such as employee management, risk management, organisational behaviour, and many more.
When choosing a topic for your management dissertation, make sure to consider diverse topics that explore both the theoretical and practical aspects of management.
We understand that getting a dissertation topic approved can be extremely challenging as academic supervisors require students to research a unique case.
This is where our team of writers comes into play. Our writers can up with exciting and manageable management dissertation topics to help get the juices flowing in your head so you can write your dissertation on a unique and engaging topic.
You may also want to start your dissertation by requesting a brief research proposal from our writers on any of these topics, which includes an introduction to the topic, research question, aim and objectives, literature review along with the proposed methodology of research to be conducted. Let us know if you need any help in getting started.
Check our dissertation examples to get an idea of how to structure your dissertation.
Review the full list of dissertation topics for 2022 here.
How to Select the Best Management Dissertation Topic?
A dissertation topic must be selected based on research interests, availability of data, time limitations, and the research's scope and significance. The following management dissertation topics are carefully shortlisted while considering all these parameters. Please review these topics and let us know if you have any queries.
Also Read: Operations Management Dissertation Topics
2022 Management Research Topics
Covid-19 Management Research Topics
Management Dissertation Topics for 2021
Strategic Management and Organisational Behavior Dissertation Topics
Strategic management and organisational behaviour can be described as the actions a firm takes to achieve its business objectives primarily derived from competitive markets' dynamic behaviour. Following are some interesting dissertation topics under this field of study;
Knowledge Management Dissertation Topics
The importance of knowledge management for organisations can't be understated because this aspect of management enhances the workforce's capabilities and overall productivity. It leads to a competitive advantage and provides the basis for differentiating an organisation from its competitors. Some interesting dissertation topics under this field are;
Leadership and Management Information System Dissertation Topics
Leadership drives the organisational agenda and is regarded as one of the most influential factors in streamlining organisations' processes. Good leadership results in better performance of any organisation because it gives direction to the business activities under the market conditions and requirements.
Similarly, management information systems are pivotal to any organisation's success and successfully implementing them can benefit the organisation in many ways. Following are some dissertation topics under the subject of leadership and management information systems;
Order a Proposal
Worried about your dissertation proposal? Not sure where to start?
Choose any deadline
Plagiarism free
Unlimited free amendments
Free anti-plagiarism report
Completed to match exact requirements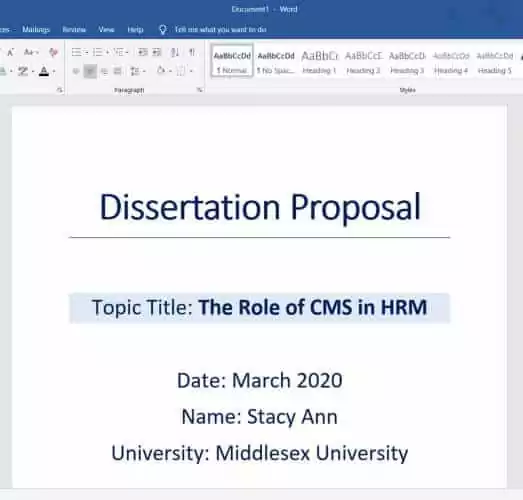 Organisational Culture and International Business Dissertation Topics
Organisational culture shapes the work ethics and helps in defining the professional image of organisations. Organisational culture plays a huge role in international business.
Organisations that adopt the country's culture they are operating in are known to run their operations more successfully. The following topics are related to organisational culture and international business and help students choose an appropriate topic according to their interests.
Important Notes:
As a management student looking to get good grades, it is essential to develop new ideas and experiment with existing management theories – i.e., to add value and interest to your research topic.
The management field is vast and interrelated to many other academic disciplines like operations management, business, business administration, MBA, human resource management and more. That is why creating a management dissertation topic that is particular, sound, and actually solves a practical problem that may be rampant in the field is imperative.
We can't stress how important it is to develop a logical research topic based on your entire research. There are several significant downfalls to getting your topic wrong; your supervisor may not be interested in working on it, the topic has no academic creditability, the research may not make logical sense, there is a possibility that the study is not viable.
This impacts your time and efforts in writing your dissertation, as you may end up in the cycle of rejection at the initial stage of the dissertation. That is why we recommend reviewing existing research to develop a topic, taking advice from your supervisor, and even asking for help in this particular stage of your dissertation.
Keeping our advice in mind while developing a research topic will allow you to pick one of the best management dissertation topics that fulfil your requirement of writing a research paper and adds to the body of knowledge.
Therefore, it is recommended that when finalizing your dissertation topic, you read recently published literature to identify gaps in the research that you may help fill.
Remember- dissertation topics need to be unique, solve an identified problem, be logical, and be practically implemented. Please look at some of our sample management dissertation topics to get an idea for your own dissertation.
How to Structure your Management Dissertation
A well-structured dissertation can help students to achieve a high overall academic grade.
Declaration
Introduction: This chapter includes the project rationale, research background, key research aims and objectives, and the research problems. An outline of the structure of a dissertation can also be added to this chapter.
Literature Review: This chapter presents relevant theories and frameworks by analysing published and unpublished literature on the chosen research topic to address research questions. The purpose is to highlight and discuss the selected research area's relative weaknesses and strengths while identifying research gaps. Break down the topic and key terms that can positively impact your dissertation and your tutor.
Methodology: The data collection and analysis methods and techniques employed by the researcher are presented in the Methodology chapter, which usually includes research design, research philosophy, research limitations, code of conduct, ethical consideration, data collection methods, and data analysis strategy.
Findings and Analysis: Findings of the research are analysed in detail under the Findings and Analysis chapter. All key findings/results are outlined in this chapter without interpreting the data or drawing any conclusions. It can be useful to include graphs, charts, and tables in this chapter to identify meaningful trends and relationships.
Discussion and Conclusion: The researcher presents his interpretation of results in this chapter and states whether the research hypothesis has been verified or not. An essential aspect of this section is establishing the link between the results and evidence from the literature. Recommendations with regards to implications of the findings and directions for the future may also be provided. Finally, a summary of the overall research, along with final judgments, opinions, and comments, must be included in the form of suggestions for improvement.
References: Make sure to complete this by your University's requirements
Bibliography
Appendices: Any additional information, diagrams, and graphs used to complete the dissertation but not part of the dissertation should be included in the Appendices chapter. Essentially, the purpose is to expand the information/data.
About Research Prospect Ltd
Research Prospect is a UK based academic writing service that provides help with Dissertation Proposal Writing, PhD. Proposal Writing, Dissertation Writing, Dissertation Editing, and Improvement.
For further assistance with your dissertation, take a look at our full dissertation writing service.
Our team of writers is highly qualified. They are experts in their respective fields. They have been working for us for a long time. Thus, they are well aware of the issues and the trends of the subject they specialize in.
Need more Topics.?

Review Our Best Dissertation Topics 2022 complete list.