Business Psychology Dissertation Topics
Published by Owen Ingram at January 4th, 2023 , Revised On August 11, 2023
A dissertation on business psychology can be extremely rewarding for business and psychology students. However, many students find themselves unsure about which area of business psychology they must explore as part of their research.
This article looks into the key issues in the field of business psychology and lists the best business psychology dissertation topics to choose from.
What is Business Psychology?
Business psychologists study how emotions drive human behaviour at work and are responsible for researching those emotions. The field of business psychology establishes how to make better decisions at work by understanding the emotions driving organisational decisions.
Business psychology investigates all aspects of business decision-making, from hiring employees to preparing projects for clients. Furthermore, business psychologists help authorities determine whether their employees are the right fit for the position and the company by assessing their performance and changes.
Also, learn about our business writers and psychology writers if you need professional services.
The need for managers to be able to identify the psychological challenges associated with their employees has increased as more companies move toward remote working models and telecommuting. As a result, employees will be more loyal to their employers, and customers will be more attracted to the company.
The field of business psychology is one of the most exciting and rapidly growing in the world today. It holds the potential to motivate employees to perform better at work in a variety of industries. You should undoubtedly learn more about business psychology if any of this sounds interesting.
Salary Stats of Business Psychology
There is a constant need for business psychologists, especially in market research and employee development. Consequently, business psychology graduates have a high chance of finding rewarding positions with competitive salaries.
According to a survey, the starting salary for a business psychologist ranges from about $24,000 to more than $185,000. The typical annual wage is close to $91,756. However, experience, geography, and industry are essential determinants of compensation.
Research Aim: Using psychology to study different industries and organisational health to understand business aspects.
Research Aim: Understanding occupational characteristics and worker requirements information across the U.S. economy.
Research Aim: Studying career guidance and development of workers in institutions to perform better.
Research Aim: Diving deep into the organisational behaviour of how people interact with businesses and customers.
Research Aim: Comprehending the Five-Factor Model of Personality and Job Satisfaction and focusing on Employee Morale.
Research Aim: Evaluating an individual's performance, strengths, weaknesses, and improving performance at work.
Research Aim: Learning the nitty-gritty of employee management to maintain a productive and satisfied workforce.
Research Aim: Getting quality training from industry experts to improve overall outcomes as an individual yourself.
Research Aim: Studying safety, health, working conditions and other complex matters to increase the overall production of quality products.
Hire a Dissertation Expert
Orders completed by our expert writers are
Formally drafted in an academic style
Free Amendments and 100% Plagiarism Free – or your money back!
100% Confidential and Timely Delivery!
Free anti-plagiarism report
Appreciated by thousands of clients. Check client reviews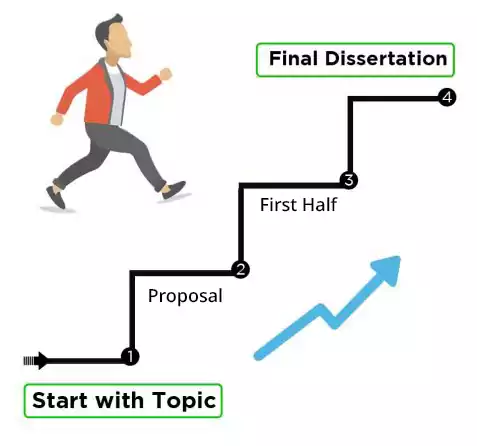 Pick any top business psychology dissertation topics from the list above to get started on your business psychology paper.
Conclusion
Businesses today require psychologists to solve various issues related to business on a day-to-day basis. If you are eager to dive deep into this subject, a best practice is to use your acquired talents and expertise to address problems and come up with the appropriate answer for the companies.
When employees feel engaged, businesses are more productive, more satisfied, more creative, and more innovative, and their sales grow, which leads to a higher return on investment.
Moreover, if you are interested in applied psychology, complex problem-solving, or organizational effectiveness, business psychology may be a great fit for you. If you need help with the complete dissertation writing process, you may want to additionally read about our proposal writing service and the full dissertation writing service.
Frequently Asked Questions
To find business psychology dissertation topics:
Explore organizational behavior.
Investigate employee well-being.
Analyze leadership and motivation.
Examine consumer behavior.
Consider workplace diversity.
Choose a topic integrating psychology and business challenges.