Fintech Dissertation Topics – Guide With Tips & Examples
Published by Owen Ingram at December 29th, 2022 , Revised On February 10, 2023
Introduction:
Fintech, short for financial technology, is a rapidly-growing industry that focuses on using technology to improve the efficiency of traditional banking and financial services.
Fintech companies specialise in developing software and other tools that automate banking processes and make it easier for businesses and individuals to manage their finances.
The products created by these companies include mobile apps to track spending, online payment systems, digital wallets, and blockchain technology.
Researching fintech is a critically important exercise for students of finance and technology alike. The growing importance of fintech as an innovation sector has made it an ever-evolving field, requiring researchers to stay abreast of the trends to keep up with its rapid pace.
Fintech dissertation topics require an understanding of the underlying concepts and a clear grasp of the practical applications and emerging trends in the industry.
However, for students researching fintech dissertation topics, there are some inherent challenges associated with this task.
Due to its highly specialised nature, staying up-to-date on relevant topics can be difficult as a lot of new information appears each day that needs sifting through and digesting.
How to Choose the Best Fintech Dissertation Topic:
When selecting a fintech topic, the process of researching and choosing a dissertation topic can be both exciting and daunting. Therefore, students need to take their time researching potential topics before settling on one.
The following are some tips that can help streamline this process:
First, have a general understanding of what areas the student would like to explore in fintech. This will give them a better sense of the topics most applicable to their project or paper.
Next, look into industry publications and journals, as these are great resources for finding relevant content and cutting-edge information about fintech advances.
Students should first look at current trends in the field that might be of interest. Next, they need to identify areas where there may be gaps in knowledge or new opportunities that have not yet been explored.
List of Fintech Dissertation Topics
Understanding blockchain and fintech
Embracing digital transformation with fintech
The impact of fintech on financial innovations
Smart investing with fintech tools
The impact of fintech on businesses
The future of fintech
Digital finance and fintech: current research and future research directions
Fintech: ecosystem, business models, investment decisions, and challenges
How do banks interact with fintech startups?
The Impact of fintech startups on financial institutions' performance and default risk
Fintech growth during COVID-19 in MENA region: current challenges and future prospects
How digital finance and fintech can improve financial inclusion
Data security and consumer trust in fintech innovation
Artificial intelligence in fintech: understanding robo-advisors adoption among customers
VaR and market value of fintech companies: an analysis and evidence from global data
Is the sustainability profile of fintech companies a key driver of their value?
Competition and cooperation between fintech companies and traditional financial institutions
Bitcoin, blockchain and fintech: a systematic review and case studies in the supply chain
How Blockchain can impact financial services–The overview, challenges and recommendations from expert interviewee
How Can FinTech Impact Russia's Development?
A review of literature directions regarding the impact of fintech firms on the banking industry
FinTech in India: An analysis on the impact of telecommunication on financial inclusion
The impact of fintech innovation on green growth in China: Mediating effect of green finance
How green FinTech can alleviate the impact of climate change—the case of Switzerland
An empirical study of the impacts of perceived security and knowledge on continuous intention to use mobile fintech payment services
The impact of fintech on the sustainability of Islamic accounting and finance education in Malaysia
Research on Fintech development issues based on embedded cloud computing and big data analysis
Fintech, digitalization, and the law applicable to proprietary effects of transactions in securities (tokens): a European perspective
The Problems of Consumer Protection in Fintech Peer To Peer Lending Business Activities in Indonesia
Factors affecting continuance intention of FinTech payment among Millennials in Jakarta
Banks and FinTechs: Friends or foes? What it takes for banks and FinTechs to successfully cooperate
Effects of fintech on stock return: Evidence from retail banks listed in Indonesia stock exchange
Fintech and Islamic finance: literature review and research agenda
The Effect of FinTech on the Financial Institution in Six ASEAN Countries: Fama-French Five-Factor Asset Pricing Model Approach
Data security and consumer trust in FinTech innovation in Germany
Factors affecting the consumer acceptance towards fintech products and services in Malaysia
What makes consumers trust and adopt fintech? An empirical investigation in China
Toward Fintech Adoption Framework for Developing Countries-A Literature Review based on the Stakeholder Perspective
What is the Importance of Choosing the Correct Fintech Research Topic
When considering the research within the field of fintech, it is important to consider and select a relevant topic carefully. The chosen topic should be engaging and topical, enabling research to be conducted effectively. It is essential that the right decision is made in order to ensure that meaningful results are achieved.
Firstly, when researching within fintech, it is vital to ensure that the selected topic is related to current trends within the sector. When exploring a current trend or development, an understanding can be gained as to how this will impact existing businesses and services, thus beneficial for those researching this field.
Secondly, personal interest must also be taken into account when choosing a research topic; this increases motivation and ensures that data collection remains efficient throughout the project.
By selecting a fintech topic that aligns with current trends and their own interests, students can ensure that they're getting the most out of their research. The key is to select a project that allows students to explore current topics and those that may become more relevant in the future. Students should also consider what resources they already have access to so they can use them to support their projects.
Hire an Expert Writer
Orders completed by our expert writers are
Formally drafted in an academic style
Free Amendments and 100% Plagiarism Free – or your money back!
100% Confidential and Timely Delivery!
Free anti-plagiarism report
Appreciated by thousands of clients. Check client reviews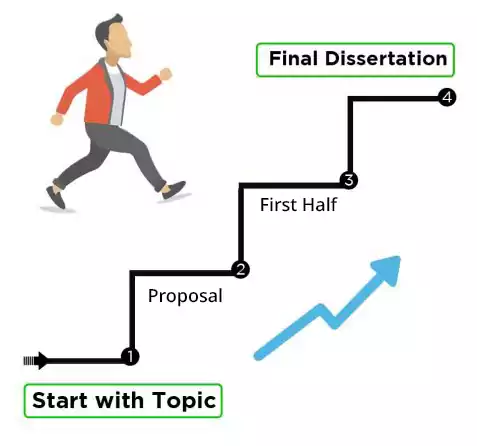 Faqs About Fintech Dissertation Ideas
You can choose a topic when you know you have an interest in it, there is enough information on the internet about it, and it can help others.
Firstly, ensuring that your topic is relevant to the current trends in financial technology is important. Do some research on what areas of fintech are currently being discussed or explored, and focus your attention on those topics.
Additionally, make sure that your chosen subject has enough information available online or through other sources so you can gather enough data for your paper. It's also important to choose a title that you find engaging and inspiring – after all, this will be an extensive project you'll be working on!
Yes, you can use these topics for your dissertation. Depending on the type of research projects you are doing, there is a variety of topics that you can use.
Yes, other students might have used these dissertation topics already. If you need unique dissertation topics which haven't been used before, you can order the dissertation topics service on our website.