Useful Tips 
Presentation of Graphs, Tables, and Figures
Back in 1990s and early 2000s, students spent days to create graphs and charts for their statistical analysis work. Thanks to technology, you can produce even more accurate graphs and figures today in a shorter period of time. Using Microsoft Word, STATA, SPSS, Microsoft Excel and other statistical analysis software, we can now draw beautiful looking figures, tables and graphs with just a few clicks and make them appear in our document at the desired place. But there are downsides to being too dependent on technology.
Many students make the common mistake of using colours to represent variables when really they have to print their dissertation paper final copy in black and white. This means that any colours on graphs and figures will eventually be viewed in grayscale presentation. Recognising different shades of grey on the same chart or graph can be a little confusing at times. For example, green and purples appear as pretty much the same shade of grey on a line chat, which means that your chart will become unreadable to the marker.
Another trap that you may fall into is the unintentional stuffing of dissertation chapter with graphs and figures. Even though it is important to show numbers and statistics, you don't want to overwhelm your readers with too many of them. It may not be necessary to have a graph/table under each sub-heading. Only you as the writer can best judge whether or not you need to have a graph/table under a particular sub-heading.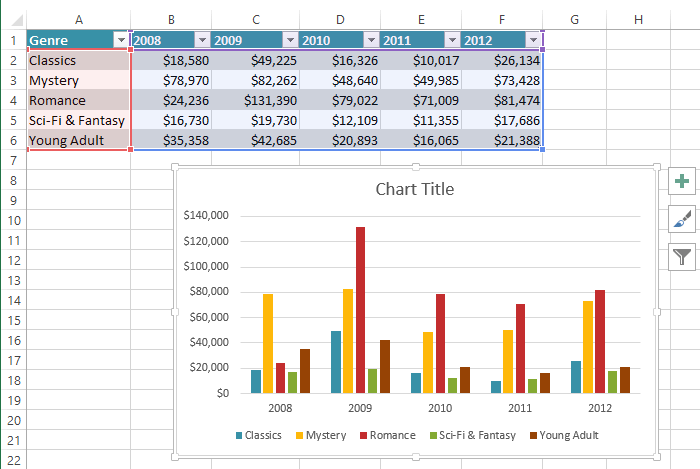 Relating to Previous Chapters
As a student, it can be challenging to come out with your own analysis and discussion of results. One of the requirements of a great discussion chapter is to showcase your ability to relate previous research to results of your own research. Avoid repeating the same information over and over. Many students fall into this trap which negatively affect the mark of your overall dissertation paper.
Concise and to the point information will help you get your point across to the readers in a more effective manner. Although you must demonstrate how your findings relate to previous research, it is equally important to make sure you are not simply rewriting what has already been said previously in the introduction and literature review chapters. The best strategy is to use examples from previous sections to postulate an argument.
Use of hyperlinks is recommended to take the reader from one section to another. This is especially important for electronic documents to be submitted as .word or .pdf files. Hyperlinking is a tedious and time consuming work so you should allow for this in your dissertation timeline to avoid rushing in the closing stages.
Using Sub sections and Sub headings
You might want to reflect the structure of the discussion in your organization of dissertation discussion chapter, and for that you will need to create sub-sections. It is important to keep sub sections to the point and as short as possible. Use a layer of subheadings if possible. For example a sub section 4.1 of Chapter 4- Discussion can be further divided into smaller sections 4.1.1 and 4.2.2. Any subheadings after three numerical layers (4.1.1, 4.2.2, 4.2.3) need not to appear in the table of contents.
The titles of all subsections will appear on your table of contents so choose the wordings carefully. A title too long or too short might confuse the reader. A one or two word subheading will not give enough information to the reader to understand what the section is about. Likewise, using a research question or long sentences in the subheading is also no recommended. It might help to look at how other researchers and writers create these subheadings.
Critical Thinking
Your critical thinking skills are the crux of your dissertation discussion chapter. You will doing yourself a great disservice if you fail to put the critical thinking element into the equation. After all, the purpose of this exercise is to showcase clarity in your thoughts and arguments. Markers of dissertation give more importance to analysis and discussion chapter. But you could be marked negatively if this particular chapter lacks critical thinking.
Many students struggle to establish the difference between basic descriptive analysis and one that entails critical thinking with your opinions on the research topic. Critical thinking is a skill that is developed over a period of time and it might be daunting for you to come to terms with the idea of critical thinking and its use in your analysis. But even if you are no expert, you must try best.