Methods of Data Collection – Guide with Tips
Published by Carmen Troy at August 14th, 2021 , Revised On April 6, 2023
Introduction
A key aspect of the dissertation writing process is to choose a method of data collection that would be recognised as independent and reliable in your field of study.
A well-rounded data collection method helps you communicate to the readers exactly how you would go about testing the research hypothesis or addressing the research questions – usually set out in the dissertation introduction chapter.
So what are the different methods of data collection you can use in your dissertation?
When choosing a dissertation method of data collection, there are certain elements you would need to keep in mind including the chosen topic, the established research aim and objectives, formulated research questions, and time and monetary limitations.
With several data collection methods to choose from, students often get confused about the most appropriate for their own research.
Here is a complete guide on the two research designs you can choose from in your dissertation – primary research and secondary research. The different research approaches within each of these two categories are explained below in detail.
Primary Research Strategy
Primary research involves data collection directly from participants. This data collection method is often chosen when the research is based on a certain area, a specific organisation, or a country.
Because the dissertation requires specific results and information, the primary research strategy is chosen to gather the required information and formulate results according to the research questions. There are various methods for conducting primary research:
Also Read: How to Approach a Company for your Primary Study.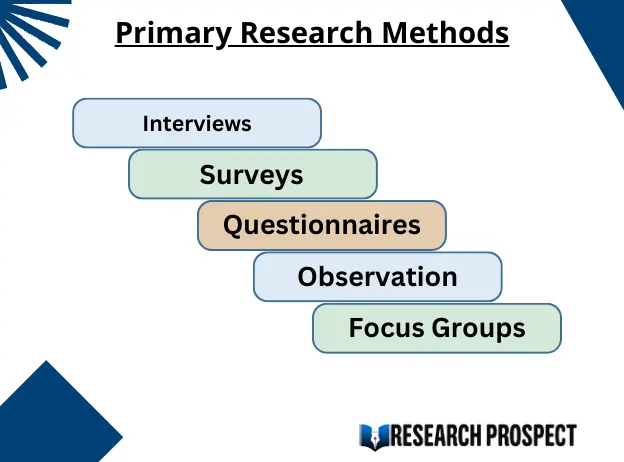 Interviews
Interviews are face-to-face discussions conducted directly with the participant(s). The matters raised during interviews are audio/video recorded or manually written down for subsequent analysis.
Participants are asked to fill and sign a consent form before conducting the interviews. All questions asked during the interview are related to the research only.
Participants have the complete right to remain anonymous or reveal personal details if appropriate. Interviews are one of the most commonly used data collection strategies for dissertations employed by researchers.
Interviews are a flexible type of research. There are three types of interviews, depending on the extent to which they are structured –structured interviews, semi-structured interviews, and informal/unstructured interviews.
The researcher collects responses based on a set of established questions with little to no room for deviation from the pre-determined structure with structured interviews.
Unstructured interviews do not require the researcher to have a set of pre-agreed questions for the interview. The scope of this type of interview includes comprehensive areas of discussion. Responses are gathered by employing techniques such as probing and prompting.
Semi-structured interviews offer a balance between a formal interview's focus and the flexibility of an unstructured interview.
In either case, the participant is informed beforehand of the nature of the interview they will be involved in.
While there is no strict rule concerning the number of participants an interview can involve, it would make sense to keep the group to 5-6 people. On the other hand, you can interview only one subject if that is more appropriate to your needs.
TIP
With the advent of technology, and to save time, many researchers now conduct online interviews and/or telephonic interviews. The timings and schedule are set before the day of the interview, and the participant is informed of the details via email. This helps in saving valuable time for the researcher, as well as the participant.
Not sure whether you should use primary or secondary research for your dissertation? Here is an article that provides all the information you need to decide whether you should choose primary or secondary research.
Surveys
Surveys are another popular primary data collection method. The participants for this type of research design are chosen through a sampling method based on a selected population.
The researcher prepares a survey that consists of questions relating to the topic of research. These survey questions can be either open or close-ended.
Close-ended questions require the participant to choose from the multiple choices provided. If you are conducting a survey, you may decide not to meet the respondents due to financial or time constraints because surveys can be filled online or over a telephonic session.
On the other hand, open-ended questions do not have any options, and the respondent has the liberty to answer according to their own perception and understanding. For these types of surveys, meeting the participant in person would be the more fitting option.
Dissertations with close-ended questions are classified as quantitative research strategy dissertations. The data collected from these surveys are analysed through statistical tools such as SPSS or Excel.
Diverse tests are applied to the data depending on the research questions, aim, and objectives to reach a conclusion. For open-ended questions, qualitative analysis is conducted by thematic analysis and coding techniques.
Surveys are frequently conducted in market research, social sciences, and commercial settings.
Surveys can also be useful across a wide range of disciplines from business to anthropology.
Our writers have years of experience in dissertation research. Whether you need help with the full dissertation paper or just a part of it, Research Prospect writers can help you achieve your desired grade.
Does your Research Methodology Have the Following?
Great Research/Sources
Perfect Language
Accurate Sources
If not, we can help. Our panel of experts makes sure to keep the 3 pillars of Research Methodology strong, and that too with zero plagiarism.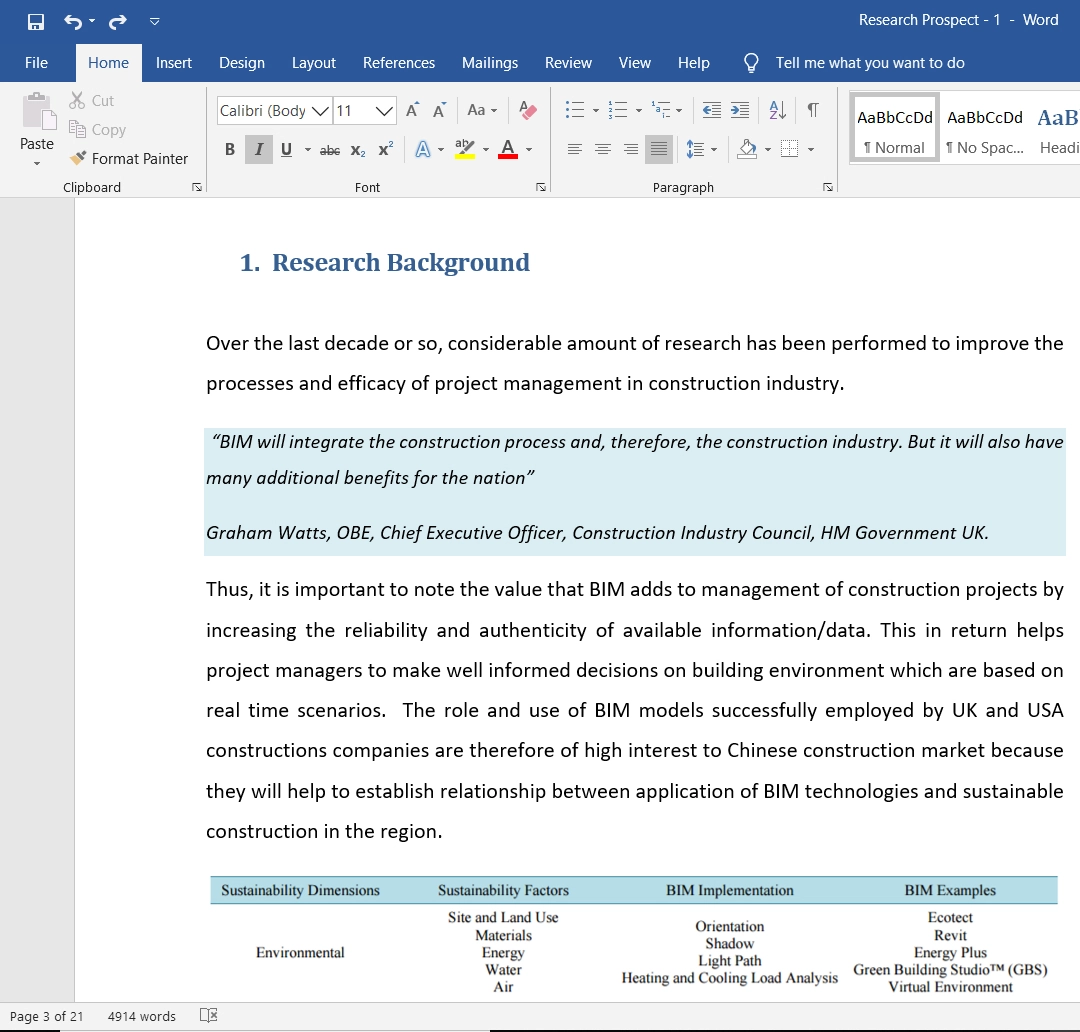 Questionnaires
Questionnaires are similar to closed-ended surveys. They contain standard questions and are distributed amongst a set of participants. A lot of researchers follow the Likert scale when using questionnaires.
This scale includes 5 options ranging from "strongly agree" to "strongly disagree". The questionnaire consists of statements, to which the respondents have to respond based on the specified options.
These responses are then analysed with the help of SPSS or another analytical tool by running analytical tests to create trend graphs and charts according to each statement's responses.
Observation
This type of dissertation research design is usually used when the behaviour of a group of people or an individual is to be studied. The researcher observes the participants figure out how they behave in certain conditions.
There are two types of observations – overt and covert. Overt observation is usually adopted when observing individuals. Participants are aware that they are being observed, and they also sign a written consent form.
On the other hand, covert observation refers to observation without consent. The participant is not aware that researchers are studying them, and no formal consent forms are required to be signed.
Focus Groups
This dissertation data collection method involves collecting data from a small group of people, usually limited to 8-10. The whole idea of focus groups is to bring together experts on the topic that is being investigated.
The researcher must play the role of a moderator to stimulate discussion between the focus group members. However, a focus group data collection strategy is viral among businesses and organisations who want to learn more about a certain niche market to identify a new group of potential consumers.
What data collection best suits your research?
Find out by hiring an expert from Research Prospect today!
Despite how challenging the subject may be, we are here to help you.
Secondary Research Strategy
Secondary research is the other research approach for dissertations, and it is usually chosen for its cost-effectiveness. Secondary research refers to the study and analysis of already published material on the subject.
This means that when a research topic is finalised, the research question is formulated and aims and objectives set up; the researcher starts to look for research and studies conducted in the past on the same topic. Reviewing and analysing those studies helps understand the topic more effectively and relate previous results and conclusions.
Researchers carried out secondary research when there is limited or no access to the participants relating to the thesis problem, even though there could be other reasons to choose a secondary data collection strategy such as time constraints and the high cost of conducting primary research.
When using previous research, you should always be aware that they might have been carried out in a different setting, with different aim and objectives, thus they cannot exactly match the outcome of your dissertation.
Basing your findings solely on one study will undermine the reliability of your work. Do your research, understand your topic and look for other researchers' views in your field of study. This will give you an idea as to how the topic has been studied in the past.
Reviewing and analysing different perspectives on the same topic will help you improve your understanding, and you'll be able to think critically about everything you read.
A thorough critical analysis will help you present the previous research and studies to add weight to your research work.
Results and discussion of secondary research are based on the findings mentioned in the previous studies and what you learned while reviewing and analysing them. There is absolutely nothing wrong if your findings are different from others who investigated the same topic.
The sources for this type of research include existing literature and research material (usually extracted from government bodies, libraries, books, journals, or credible websites).
If you are still unsure about the different research strategies you can use in your dissertation, you might want to get some help from our writers who will offer free advice regarding which method of research you should base your dissertation on.
Would you like some help with your dissertation methodology? We have academic experts for all academic subjects, who can assist you no matter how urgent or complex your needs may be.
Research prospect can help you with irrespective of the dissertation's length; it can be partial or full. Please fill out our simple order form to place your order for the dissertation chapter – methodology. Or find out more about our dissertation writing services.