How to Write the Research Questions – Tips & Examples
Published by Owen Ingram at August 13th, 2021 , Revised On August 25, 2023
Conducting research and writing an academic paper requires a clear direction and focus.
A good research question provides purpose to your research and clarifies the direction. It further helps your readers to understand what issue your research aims to explore and address.
If you are unsure about how to write research questions, here is a list of the attributes of a good research question;
The research question should contain only a single problem
You should be able to find the answer to it using primary and secondary data sources
You should be able to address it within the time limit and other constraints
Can attain in-depth and detailed results
Relevant and applicable
Should relate to your chosen field of research
Whenever you want to discover something new about a topic, you will ask a question about it. Therefore, the research question is important in the overall research process and provides the author with the reading and writing guidelines.
In a research paper or an essay, you will need to create a single research question that highlights just one problem or issue. The thesis statement should include the specific problem you aim to investigate to establish your argument's central position or claim.
A larger project such as a dissertation or thesis, on the other hand, can have multiple research questions, but every question should focus on your main research problem. Different types of research will help you answer different research questions, but they should all be relevant to the research scope.
How to Write a Research Question
Steps to Develop your Research Question
Choose a topic with a wide range of published literature
Read and skim relevant articles to find out different problems and issues
Specify a theoretical or practical research problem that your research question will address
Narrow down the focus of your selected core niche
Once you have identified a research gap and clearly defined the problem you wish to address, you need to create one or more research questions for your research. Think precisely about how you can solve the problem and how many research questions you should create.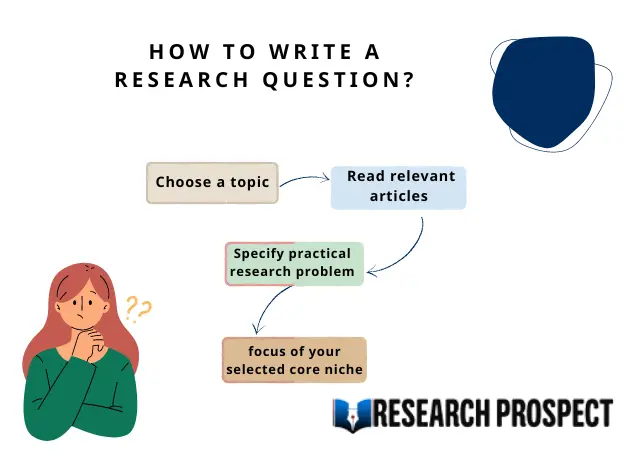 Example Research Question (s)
Here are examples of research problems and research questions to help you understand how to create a research question for a given research problem.

| Example Research Problem | Example Research Question (s) |
| --- | --- |
| A small-scale company, 'A' in the UK, cannot allocate a marketing budget for next year due to their poor revenue collection in the running year. | What practical steps can the company take to improve its revenue? |
| Many fresh graduates in the UK are working as freelancers despite having attained degrees well known academic institutes, but what is causing these youngsters to engage in this type of work? | What is the cause of fresh graduates engaging in freelance activities rather than going for full-time employment? What are the advantages and disadvantages of the gig economy for young people? How do age, gender, and academic qualification relate to people's perception of freelancing? |
Types of Research Questions
There are two main types of research; quantitative and qualitative research. Both types of research require research questions. What research question you will answer is dependent on the type of research you wish to employ.
The first part of designing research is to find a gap and create a fully focused research question.
The following table shows common research questions for a dissertation project. However, it is important to note that these examples of dissertation research questions are straightforward, and the actual research questions may be more complicated than these examples.
| Research question type | Formulation |
| --- | --- |
| Descriptive approach | What will be the properties of A? |
| Comparative approach | What are the similarities and differences between A and B? |
| Correlational approach | How can you correlate variables A and B? |
| Exploratory approach | Factors affecting the rate of C? Does A and B also influence C? |
| Explanatory approach | What are the causes of C? How does B impact A? What is causing D? |
| Evaluation approach | How useful and influential is C? What role does B play? What are the advantages and disadvantages of A? |
| Action research | How can you improve X with different interventions? |
What data collection method best suits your research?
Find out by hiring an expert from Research Prospect today!
Despite how challenging the subject may be, we are here to help you.
Steps to Write Research Questions
The research question provides you with a path and focuses on the real problem and the research gap you aim to fill. These are steps you need to take if you are unsure about how to write a research question:
Choose an Interesting Topic
Choose a topic of research according to your interest. The selected topic should be neither too broad nor too narrow.
Do Preliminary Research on the Topic
Find articles, books, journals, and theses relevant to your chosen topic. Understand what research problem each scholar addressed as part of their research project.
Consider your Audience
It is necessary to know your audience to develop focused research questions for your essay or dissertation. You can find aspects of your topic that could be interesting to your audience when narrowing your topic.
Start Asking Questions
What, why, when, how, and other open-ended questions will provide in-depth knowledge about the topic.
Evaluate your Question
After formulating a research question, evaluate to check its effectiveness and how it can serve the purpose. Revise and refine the dissertation research question.
Do you have a clear research question? 
It would help if you formed the research question after finding a research gap. This approach will enable the research to solve part of the problem.
Do you have a focused research question?
It is necessary that the research question is specific and relating to the central aim of your research.
Do you have a complex research question? 
The research question cannot be answered by yes or no but requires in-depth analysis. It often begins with "How" or "Why."
Begin your Research
After you have prepared dissertation research questions, you should research the existing literature on similar topics to find various perspectives.
Also See: Formulation of Research Question
If you have been struggling to devise research questions for your dissertation or are unsure about which topic would be suitable for your needs, then you might be interested in taking advantage of our dissertation topic and outline service, which includes several topic ideas in your preferred area of study and a 500/1000 words plan on your chosen topic. Our topic and outline service will help you jump-start your dissertation project.
Find out How Our Topics & Outline Service Can Help You!
How to Write a Strong Research Question?
A research question is the foundation of the entire research. Therefore, you should spend as much time as required to refine the research question.
If you have good research questions for the dissertation, research paper, or essay, you can perform the research and analyse your results more effectively. You can evaluate the strength of the research question with the help of the following criteria. Your research question should be;
Intensive and Researchable
It should cover a single issue
The question shouldn't include a subjective judgment
It can be answerable with the data analysis or research=
Practical and Specific
It should not include a course of action, policy, or solution
It should be well-defined
Answerable within research limits
Complicated and Arguable
It should not be simple to answer
Need in-depth knowledge to find facts
Provides scope for debate and deliberation
Unique and Relevant
It should lie in your field of study
Its results should be contributable
It should be unique
Conclusion – How to Write Research Questions
A research question provides a clear direction to research work. A bigger project such as a dissertation may have more than one research question, but every question should focus on one issue only.
Your research questions should be researchable, feasible to answer, specific to find results, complex (for Masters and PhD projects), and relevant to your field of study. Dissertation research questions depend upon the research type you are basing your paper on.
Start creating a research question by choosing an interesting topic, do some preliminary research, consider your audience, start asking questions, evaluating your question, and begin your research.
At Research Prospect, we have dissertation experts for all academic subjects. Whether you need help with the individual chapters or the whole dissertation paper, you can be confident that your paper competed to the highest academic standard. There is a reason why our clients keep returning to us over and over.
You can also look at our essay services if you are struggling to draft a first-class academic paper.
Frequently Asked Questions
Research questions are written by:
Identifying your topic.
Considering what you want to explore.
Making questions clear and concise.
Ensuring they're researchable.
Avoiding bias or leading language.
Focusing on one main idea per question.