Writing the Perfect UCAS Application and Personal Statement
Thousands of students across the globe apply for admission into reputed colleges and universities each year. The admission officer has to go through several applications and filter the most deserving candidates from the list.
The personal statement provides a fair chance to showcase your abilities and skills, convincing the reader to consider you the best fit for the institution. Since your UCAS application is the first thing people see about you, you should write it perfectly. It is advisable to take professional help from online personal statement writing services.
What is a UCAS Application?
UCAS stands for University and College Admission Service. As the name suggests, A UCAS personal statement is a short essay that describes how and why you are an eligible candidate to apply for the specific course/college/university. Almost all university applications in the UK are made through UCAS. The admission panel reads this application to decide whether or not to accept your admission request.
UCAS Personal Statement Guide
Many Universities provide you with short writing prompts , and you need to fill them out. Sometimes you need to plan your personal statement according to the requirements of the University or the college. Let's look deeper into how to write a UCAS personal statement.
Choose the College that you Want to Apply for Admission in
It is essential to choose the institution before writing your statement. As different Universities have their specific requirements. You can do it through online research and visiting some universities. If you collect a few details about the university and its faculty, you can better explain your interest in studying at a particular university.
Although you choose the degree and college yourself, the popularity of a college or degree influences your future. If you are applying to the UK for a degree, review the five most popular degrees in the UK for reference.
Read and Understand the UCAS Personal Statement Guidelines Thoroughly
It would be best to go through the guidelines of personal statements to write them according to the requirements and avoid mistakes. UCAS Personal Statement has a character limit of 4,000 (47 lines, including blank lines). It means you can't exceed this character limit. While writing it, you need to be careful enough to avoid overwriting. In short, make sure you write it precisely. The guidelines for UCAS application can vary from university to university. Therefore, you need to make sure that you have specific guidelines in hand.
Know the Requirements of the University
You collect information and research about various universities, their reputation, and the facilities they provide to students before applying there. Similarly, universities also look for talented students as they also have specific requirements for the students, which they don't mention anywhere.
You need to identify the entry requirements of the university. You can do it by attending the seminars conducted by the universities in which they enclose their requirements and opportunities for the students. You can also meet the college representatives to get an idea about what kind of students they want for the specific course.
Jot Down your Ideas
UCAS personal statement is where you need to add valuable information about yourself. Many things, incidents, and experiences occur in our lives, and possibly there will be many important things we forget or remember simultaneously. It's always best to list the important life events relevant to your admission and study course.
For instance:
Moving to another city
Accidents or any tragedy
A trip to historical places
Staying in the hostel
Any gap in your studies due to any personal or health issue
You can use such incidents and narrate your experience of how it led you to choose this course or how it affected and changed your personality.
Choose your Extra-Curricular Interests and Life Incidents Wisely
You may be a multitalented person and possess various skills, but you need to ask yourself while including them in your personal statement.
Is it relevant to the course?
Is it necessary to mention it?
How is it going to help me during the course?
For instance:
If you are a science student, you can talk about the research you have conducted in your previous course.
If you are a history student, you can discuss the trip to any historical place.
If you apply for nursing, you can discuss any incident to look after someone.
It will help you choose the most relevant activities to prove later in the course.
Hire a Personal Statement expert!
Secure admission to your desired university
Get a perfect written personal statement
100% plagiarism free
Proofread and error-free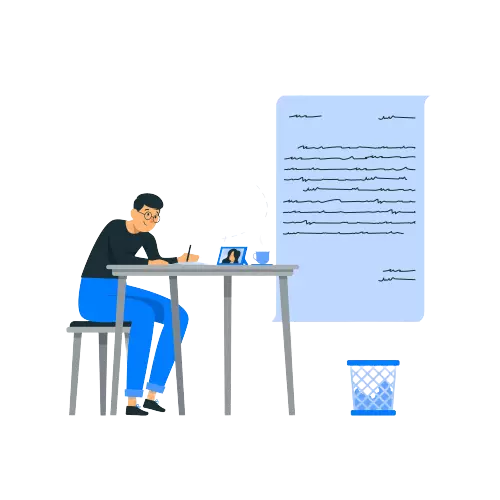 Be Truthful
At the same time, make sure that you speak only the 'truth' in your UCAS application without being boastful about your skills. If you lie, you may get caught at some point.
Example: You talked about any famous author, leader, or scientist who inspired you in your statement (let's say you spoke about Einstein or Shakespeare).
What would you do if your admission officer asked you any question relevant to any specific discovery of Einstein or any particular literary piece of Shakespeare?
If you don't want to land in such embarrassing situations, you need to be truthful regarding every detail about your academics and extra-curricular activities.
Write the First Draft Freely
As you already know that you cannot exceed the character limit of 47 lines, but how will you ensure that whatever you have written is worthy?
It's possible to write 47 lines about yourself, but what if you miss something important while focusing on the character limit?
If you want to avoid this dilemma, it's always the best way to write your first draft without worrying about its length and spelling or grammar errors. However, you can edit it later by eliminating the unwanted stuff and selecting the essential points. You can also improve the structure of sentences while editing them and get a neat piece of writing. Among many others things, This is one of the most important parts necessary for completing your UCAS application.
The Three Important Questions
Focus on answering three questions throughout the UCAS personal statement to ensure perfection.
What made you choose this course? Narrate any incident of your life that inspired you to choose this course.
Why are you applying to a particular university? Talk about the details of the university that attracted you and express your enthusiasm to join the university.
What makes you an eligible candidate for the university, and how would you contribute to the course and university? Explain how your competencies can help you implement your plans and achieve your goals during the course. Besides this, mention the contribution you wish to make to the institution through your knowledge and performance.
Include your Work Experience
If you have any work experience, you can mention it in your UCAS application. Many students take part-time jobs for various reasons, and adding such experience is the best way to showcase your time and task management skills.
Express your Enthusiasm
Whether you are an international student or a local student, express your enthusiasm for studying in the UK. or any specific university in the UK. Provide reasons for your desire and previous academic experiences.
Never Type Personal Statement Directly in UCAS Online Application Form
Always type your statement in an MS word document to edit it easily for grammar and spelling errors. However, later you can copy the flawless statement in UCAS online application form. While adding this statement online, you need to click on the save option within 35 minutes, as the session times out after every 35 minutes.
Proofread
Proofread your UCAS application thoroughly before submitting it. Make the necessary changes to it. You can also take expert help from online proofreading and editing services to ensure that your UCAS personal statement is perfect.
Replying to the University Offers
There are different ways to reply to a university offers according to the set conditions. But it is necessary to respond to all offers, whether positive or negative. You can even reject every offer at once if you don't wish to accept them.
However, by looking at UCAS's extra service option, you can swap out the current courses for new ones. For a detailed guide on how to respond to the university offers , you can check our page.
Word Limit for UCAS Personal Statement
You must use your words wisely for the UCAS personal statement because it cannot be of more than Yes, you read it right, characters, not words. This means that spaces will be included in it. This constitutes almost two sides of an A4 paper. Therefore, you must ensure that you are concise and clear while writing.
International Students
You might face a lot of problems as an international student in the UK such as cultural shock or adjusting to the English dialect. You do not want the UCAS personal statement to be your weak point. Make sure to start working on your personal statement early. Get a consultant to work with you and guide you through the university admission processes.
The application is made through a simple online portal. You have to fill out the form. Take your time to fill it out. The UCAS is the organisation in charge of processing applications for UK higher education programmes. They provide a universal online application form that may be used to apply to study at any UK university, and they will submit it on your behalf.
Before applying to universities, go through the conditions of the country and the problems you might have to go through. For example, if you are planning to do your degree in the UK, check out the top 10 things you need to know about studying in the UK.
Mature Students
The term mature students refer to to the students gointog into the degree after taking a gap. It can be difficult for some students to get back to the application processes etc because of prolonged gap. You shouldn't worry too much about whether you qualify to apply for graduate studies. There are numerous courses you can access at your convenience, regardless of whether you wish to finish your higher education with the previous basic requirements. You can also apply on your prior training and job experience.
Some courses give you the credentials you need to enrol in the institution or course of your choice. Check out our university guide for mature students to have a deeper knowledge of the context.
UCAS Application Fee in 2023
Before submitting an application using the UCAS 2023 portal, students must pay an application fee for the course or courses they choose to apply to. The application price for UCAS 2023 is £22.50 for one programme and £27 for multiple courses. Assessment costs are also charged, typically collected by the UCAS, but occasionally you'll need to pay the college directly. Depending on the degree and the college, the assessment fee varies. With the UCAS application fee of £27, You have 6 choices at maximum.
Conclusion
Above mentioned are the tips and tricks for writing the perfect personal statement. If you haven't started working on your UCAS application, you need to start doing it now. Seek professional help for the best guidance.
Parents should also help their children with the applications by talking to them, sparing expenses, encouraging their children etc. Learn the different ways to motivate your child to write a personal statement in our comprehensive guide.
Frequently Asked Questions
You cannot make changes when it is sent to UCAS. But you can make edits to your UCAS application after paying by contacting your university or college or the official site of UCAS. If the application is still with your college or university, they can send it back to you for any changes. You can make changes to the following personal details.
Address and phone number
Email address
Name and date of birth
Passport details
When you have sent your UCAS application, or your school has forwarded it, it takes almost 24-48 hours to get processed. After this, you will receive a welcome email. Through the UCAS Hub system, you can check the progress of your UCAS application. When the status of your application changes, you should be notified, and any necessary steps will be explained to you in detail.
It is not uncommon for students to get late in sending their UCAS application. You can still apply for many courses. However, you need to contact the respected universities for the vacancies in the courses.
The payment for the application is processed when all the sections of the UCAS application are marked red. You must enter the 16-digit card number, the start and end date, and the CVS number. If your payment is not processing, it probably might be because one of these pieces of information is incorrect. Or that you have insufficient funds in your account. If you are an international student, you might have to call your bank to confirm the payment.
Click on view all and print the page using the normal print method.
More Interesting Articles