55 Dementia Dissertation Topics
Published by Owen Ingram at January 2nd, 2023 , Revised On August 16, 2023
The term dementia refers to a collection of symptoms and disorders, rather than a single disease. As a result, dementia has a wide range of dissertation topics. Finding a dissertation subject related to dementia sufferers might be advantageous. You may be attempting to make a difference in the lives of dementia sufferers. You must investigate some previously unknown features to assist them! For those hoping to use their dissertation to help people with dementia, this is the right place. Our team has compiled a list of dissertation topics for your consideration. Picking dementia research subjects that haven't received as much attention as others can add something new to the table.
List Of Dementia Dissertation Topics For All Academic Levels
An in-depth investigation of dementia in men and women – a case study

An examination of the ways advocated by experts for dealing with dementia sufferers

Highlighting the genetic and environmental risk factors for dementia development in the elderly in the United Kingdom

The study of senior dementia patients and how they react to definite and uncertain conditions

A comprehensive analysis of the connection between risks and smog and an increase in dementia in European industrial towns

Experts studied a cognitive test for diagnosing mild dementia diseases in male patients.

Use educational expert dementia strategies and how they might help treat and care for dementia sufferers.

How much nursing assistance is required to care for dementia patients?

Investigating the significance of the care policy for senior dementia patients in the United States of America

The nursing qualification and certifications necessary for the care of senior dementia patients in the United Kingdom are highlighted.

Recognizing the patient's quality of life. A patient with dementia is the subject of this case study

What are the most effective ways for early dementia identification in the United Kingdom? A thorough investigation

A study of dementia patients receiving home care and how it has aided in reducing the symptoms

Do dementia caregivers experience stress? – an examination of survey results.

Non-pharmacological therapies for aggressiveness and stress in dementia patients

What is the pain treatment procedure for dementia patients?

The dementia nurses training program in the United Kingdom and how it has improved dementia patient care

A comparison study evaluated the relationship between dementia patients' longevity and the point at which their therapy began

Investigating the link between memory loss and the early stages of dementia

Investigating the cognitive tests nurses use to detect minor cognitive impairments that can progress to dementia in male patients

Problem behaviour in dementia and the production of informal caregiving services

Investigating the use of educational strategies by nursing staff in overcoming communication challenges in dementia patients

Patient-centred pain control in elderly people with dementia equality, diversity, and inclusion in dementia care practice

Can cognitive training slow the progression of dementia?

What function does physical activity increase mobility and stamina in vascular dementia patients? An in-depth examination

The importance of contemporary technology in the care of patients suffering from dementia. A thorough examination of dementia sufferers in the United Kingdom

Examine the factors that increase the likelihood of developing dementia at a young age in the United Kingdom

Problem behaviour in dementia and the production of informal caregiving services

The ability of nursing staff to determine the requirements of dementia patients by interpreting behavioural displays and emotional responses of patients

Making end-of-life decisions for nursing home residents with dementia

Autism and dementia are both diagnosed and treated in the same way

Identifying modifiable dementia risk factors pathways connecting late-life depression and dementia

How much nursing assistance is required to care for dementia patients?

Is there communication between dementia doctors and patients?

What are the global trends in dementia? – case studies from various nations

Dementia research by UK ethnic minorities and how it has affected individuals

Mild cognitive impairment and dementia in Parkinson's disease imaging

Improving cognitive function before clinical dementia symptoms

Longitudinal relationships between serum cytokine levels and dementia

Dementia and the affected parts of the brain

Examine doll therapy treatment and how it has progressed and improved the medical sector

Observational pain assessment scales for dementia patients

The treatment of dementia patients and its beneficial impact on their lives.

Deficits in exploration under ecological conditions as a marker of apathy in frontotemporal dementia

What are the three behavioural issues related to dementia?

What are some common behaviours observed in dementia patients?

When do dementia patients forget about family members?

What is the life expectancy of someone suffering from Parkinson's disease and dementia?

How can you tell if someone has dementia is near death?

An overview of the literature on medical ideas and notions about dementia.

A study on a cognitive test for diagnosing mild dementia diseases in male patients.

What effect does dementia have on a person's care needs?

Why is early retirement associated with an increased risk of dementia?

Do retirees with dementia require financial assistance?

What are dementia pharmacological interventions?
If you have chosen one of the above dementia dissertation topics, you can start working on your dissertation. You might also want to review our list of nursing dissertation topics for extensive research because they are correlated with the field of medical science.
Hire an Expert Writer
Orders completed by our expert writers are
Formally drafted in an academic style
Free Amendments and 100% Plagiarism Free – or your money back!
100% Confidential and Timely Delivery!
Free anti-plagiarism report
Appreciated by thousands of clients. Check client reviews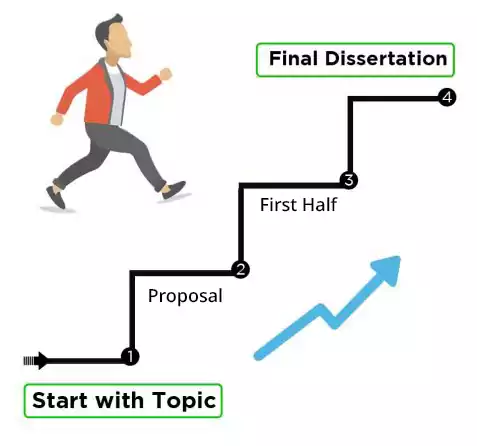 Final Words
There is no doubt that your dissertation is the most important document of your academic career. A dissertation on dementia is another matter altogether. Your dissertation topic should entice your readers to read it by piquing their interest.
Above, we have provided the most comprehensive dementia research topics. The topic of your dissertation can be anything you wish. Ensure that your final dissertation topic meets the criteria for your dissertation. Dissertations that fail to meet the approval standards will almost certainly be rejected. We offer customised dementia dissertation topics with research aims and objectives if you are still looking for suggestions.
Frequently Asked Questions
To find dementia dissertation topics:
Study recent research in dementia.
Identify specific aspects like care, treatment, ethics.
Explore interdisciplinary angles.
Consider cultural, societal implications.
Consult experts or professors.
Choose a meaningful and feasible topic for in-depth study.