MBA Marketing Dissertation Topics
Published by Owen Ingram at August 24th, 2022 , Revised On August 24, 2022
The goal of marketing is to promote goods and services and increase sales for your business by creating, sharing, and planning. The MBA marketing dissertation ensures 100% profits and excellent customer service as one of the most important aspects of any business.
Additionally, marketing studies the relationship between products, brands, and services and human behavior. This element plays a crucial role in defining a company's value and measuring its growth. In order to increase brand recognition, attract more customers, and drive sales, you need a well-crafted marketing strategy.
To achieve result-driven marketing, marketers must thoroughly understand client requirements, the competitive environment, and how those factors impact business success. Having that said, looking for the perfect MBA marketing dissertation topics? We will help you with that. First we will walk you through the types.
Types of Marketing
There are many types of marketing, as you may have guessed, so choosing MBA marketing dissertation topics can be a little overwhelming. The following are the most important:
Advertising:
Marketing in this form is the most common. It involves paying advertisers to place different kinds of ads in newspapers, television program or on billboards and other posters.
Public relations:
Advertisers use this form of advertising to promote their brands without actually buying advertising space. Your business can raise awareness by sponsoring events or writing articles for the media.
Direct marketing:
Sending direct marketing messages to potential customers by postal mail or email is one method of direct marketing. Thus, it is similar to direct response advertising without using paid media such as print or television.
Sales promotion:
The term sales promotion refers to any activity designed to increase sales at a specific point in time rather than across the whole year. There are various types of sales contests and discounts offered during specific periods (such as Black Friday). Short-term sales are always the goal rather than building long-term brand awareness through customer loyalty. The most common form of sales promotion is coupons, but other forms include free samples and rebates.
Product marketing:
An important aspect of any business is product marketing. Creating a connection between your brand and consumers is the role of product marketing specialists. By understanding how consumers perceive your product or service category, they can help you position yourself against your competition more accurately.
Benefits of Marketing
Marketing can provide you with the following benefits:
Selling is only one aspect of marketing. It's about building relationships, and a connection is made through communication.
As a result, marketing enables you to establish brand awareness among your target audience, thereby increasing your chances of achieving your business objectives.
By analyzing competitors' strengths and weaknesses, marketers can develop a plan that will help them gain an edge over their opponents.
In order to generate leads for their clients, marketers use a variety of techniques, such as email marketing, web analytics, social media marketing, and more.
Your marketing professionals develop strategies to engage your clients with your brand on a variety of platforms, including email marketing, social media, and more.
Order a Full Dissertation
Worried about your dissertation writing project? Not sure where to start?
Choose any deadline
Plagiarism free
Unlimited free amendments
Free anti-plagiarism report
Completed to match exact requirements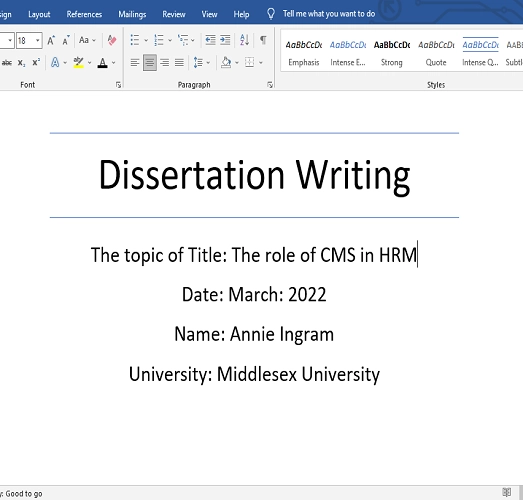 List of Dissertation Topics For Marketing
The following list of issues will undoubtedly help you brainstorm topics for your marketing dissertation.
The Impact of Product Placement on Brand Building
Customer Relationship Management In The UK
Customer Loyalty And Customer Satisfaction In Online Retailing Companies
Economics of computerized communication in the COVID-19.
Social Media And Customer Relationship Management:
An analysis of the connection between brand investment and observed risk comparison
Issues of standardization vs. adaptation in global marketing
Impact of Mobile Companies' Marketing Communications Practices on the Behaviour of Loyal Consumer Base
Using anticipated control establishes a brand advantage, generates leads and piques customer attention.
A Growing Love for the Data Burst utilizing analytics' potential
The Impact of Social Networks on Consumer Online Purchasing Behavior
Automating customer service interactions
Variation of prices for commodities across online and offline sources,
Effects of a company website's user interface for business.
Safeguarding consumer privacy in digital marketing
Incorporating social processes when pursuing various markets and fostering market interest.
Systems that businesses use to respond to customer boycotts.
A Feasibility Study on Marketing and Advertising, Emphasizing Differences and Similarities
The Effects of Online Animated Advertising Strategies and E-Marketing on Consumer Purchasing Behaviors
A cost-benefit analysis of creative advertising strategy and direct marketing strategy
Comparing the Competition: A Discussion of the Various Business Strategies You Can Use to Ensure Success
Factors needed to distinguish between micro and macro Businesses
Effects of a Longer Warranty on Increasing Market Share for Electronic Products
the connection between a system's characteristics and location
The advantages that organizations gain from customizing their works.
Mobile commerce's advantages and disadvantages.
The marketing industry is extremely competitive today, so having the same boring dissertation as hundreds of other students makes it even harder to stand out. However, MBA is one of those most in-demand spaces for marketing as of now.
The MBA in marketing can also lead to a variety of career opportunities, including marketing management, product development, brand management, advertising, and market research. In addition, the top 10% of MBA qualified to earn more than $208,000 annually, so you can expect an annual salary of approximately $131,180.
Conclusion
Marketing is a nitty-gritty area of study that ties directly back to your business growth and keeps your company in the consumer's mind. You can advertise on television, radio, and social media all day.
It helps you get your product out there and circulate among your target audience. You can write a dissertation on the above-mentioned MBA Marketing Dissertation Topics.