Educational Psychology Dissertation Topics
Published by Owen Ingram at January 3rd, 2023 , Revised On August 11, 2023
Finding engaging educational psychology dissertation ideas can be really time-consuming particularly if you haven't been through this process previously. -. Every student is not particularly adept at creating a unique dissertation topic.  Educational psychology is one of the most challenging subject areas, and finding the right topic for writing a dissertation can be challenging.
Here is a list of the best educational psychology dissertation topics for you to choose from. These top educational psychology dissertation topic ideas will help you complete your dissertation on a unique and intriguing topic that would help you advance your academic career.
Get Dissertation Services
Orders completed by our expert writers are
Formally drafted in an academic style
Free Amendments and 100% Plagiarism Free – or your money back!
100% Confidential and Timely Delivery!
Free anti-plagiarism report
Appreciated by thousands of clients. Check client reviews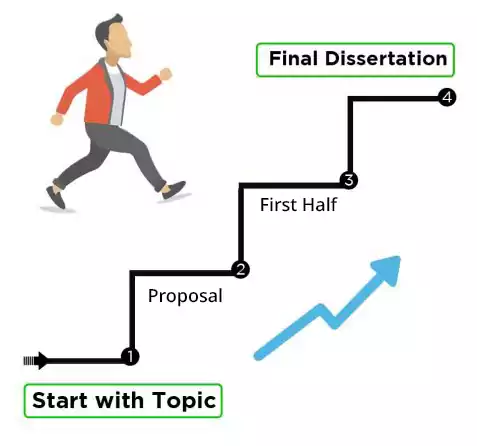 List of Educational Psychology Dissertation Topics
A comparison of the effects of college and school counselling on students' mental health in the UK.
University of Bedfordshire analysis of cultural differences in how people view learning.
Study the relationship between studying time and academic performance in college students compared to university students.
A thorough investigation of social and emotional learning in UK primary education.
A case study compared the performance of school-age kids and teenagers in the UK according to their ethnicity, race, and religion.
An analysis of how technology is used in classrooms and how that affects students' learning in the UK.
The relationship between toddlers' social abilities and a norm-referenced theory of mind measure.
A mixed-methods study of the UK's university students' subjective well-being and classroom support.
Examine the coping mechanisms and treatment hurdles of a middle school teenager with a severe anxiety problem in the United Kingdom.
An analysis of how teaching children arithmetic concepts early on can improve their performance in higher-level courses.
The association between self-motivation and academic achievement at the university level in the United Kingdom.
The investigation of the links between parental traits and the detrimental effects of classroom peer pressure on children in playgroups in the United Kingdom.
Nonverbal communication and neurolinguistics programming in the educational process.
The pros and cons of learning a language through immersion and communication.
The contribution of smartphones and computers to children's motor skill development.
There is a connection between academic performance and the quantity of time spent studying.
The impact of parents' language abilities on their deaf children's development.
What are the advantages and disadvantages of encouraging support and acknowledgement in special education?
What function does technology play in a classroom, and how does that impact students' learning?
It may affect secondary-level student achievement when parents are strict, and there is little school discipline.
The distinction between bullying and peer aggression in practice trends may change or develop.
Self-motivation and academic accomplishment levels are related.
Memorization and concept building in education are two different things.
You can research every aspect of schooling, including disparities in pupils and motivation for studying.
Collaborative Learning with a Geometry Video Game: The Importance of Game Design and Elaboration for Learning and Motivation.
Conclusion
It takes a lot of time and effort to develop a dissertation topic in educational psychology. The more thoroughly you research your ideas, the easier it will be to succeed. The topic you choose must also be engaging. Your educational psychology dissertation topic should address all development difficulties, such as self-concept, self-regulation, environmental factors, motivation, knowledge, and cognitive development.
Do you need to hire a professional dissertation writer? Worry no more! At Research Prospect, we provide custom dissertation writing solutions according to your requirements.
Frequently Asked Questions
To find educational psychology dissertation topics:
Review current research and theories.
Identify educational challenges.
Explore learning methods and technologies.
Consider socio-cultural factors.
Investigate student motivation and behavior.
Select a topic aligning with your passion and research goals.