How to Find a Good Dissertation Topic
Published by Owen Ingram at August 11th, 2021 , Revised On August 22, 2023
A dissertation contributes significantly towards how your professional career shapes up in the future and a major part of your overall grade depends on it. In fact, in some institutions, it isn't optional but mandatory to have completed credit hours allocated to research otherwise students aren't awarded their degrees/diplomas.
When choosing a topic for your dissertation or thesis, it is important to make sure that your selected topic interests you and is manageable. With your degree and years of hard work at stake, avoid choosing a topic too broad/narrow or too impractical.
In this brief article, we share some of the most helpful means of how to find a good dissertation topic.
To choose a relevant and intriguing dissertation topic, there are a few steps that you need to follow. This article will guide you in the right direction and ease the process of topic search and selection.
Following are the Steps to Find a Good Topic
Step-1 Choose a Subject/Area
Select a subject or a broad area under which your dissertation topic will fall. This will help you finalise a good topic in lesser time. This subject should be of interest, i.e., a subject from your majors in the undergraduate program, for starters.
For instance, if you're looking for a topic for your human resource undergraduate program, you can look for a topic that falls under employee recruitment and retention or organisational policy formation.
You can choose any topic for a dissertation that adds value to the existing literature, as long as it is related to your subject. Once you select an issue or an area of interest, your next step would be to list down and narrow your choices.
Alternatively, you might also come across interesting topics to work on that belong to less-researched fields or subject areas. Who knows, your research into a topic that little is known about might just be the ground-breaking discovery the world needs!
Step-2 Narrow Down your Choices
Once you've created a list of topics that interest you, narrowing down your choices becomes easy and manageable. When doing so, there are a few aspects that you need to consider.
Your chosen topic for the dissertation should not be too narrow that you cannot find relevant existing knowledge and literature. Another aspect you should consider is exploring whether any research has already been conducted on similar topics.
If sufficient research has already been performed on the topic, it will be easy for you to present arguments, expand on them and conclude your thesis.
Other aspects that should be given importance when narrowing your choices are understanding the type of research question you're looking to answer, the type of research you will conduct (primary/secondary/empirical) and credible sources to back up your research claims.
Hire an Expert Writer
Orders completed by our expert writers are
Formally drafted in an academic style
Free Amendments and 100% Plagiarism Free – or your money back!
100% Confidential and Timely Delivery!
Free anti-plagiarism report
Appreciated by thousands of clients. Check client reviews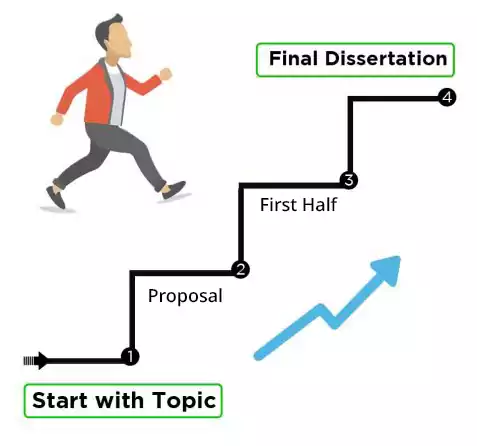 Step-3 Don't be Vague!
If you have your thesis structure in mind, it will be easier to divide your topic into the required segments. Your thesis should be a solid piece of academic research backed by credible sources.
Thus, it would be best to be sure that the topic you're choosing for a dissertation would help you present your perspective in the right manner. Do not make the mistake of selecting a topic idea that is too broad or vague.
This will lead to a poorly constructed thesis with little or no value. Your aim should be to work on a topic that has not been extensively researched in the past, but with a sufficient amount of literature to it, a subject that needs attention and will add value to the readers and help you learn through the process.
So, stay away from vague topics that do not add value to the existing body of knowledge. This is, after all, one of the primary, most holiest of goals of research anyway, to add to the existing body of knowledge; not merely to increase research databases' content.
The proposals we write have:
Precision and Clarity
Zero Plagiarism
High-level Encryption
Authentic Sources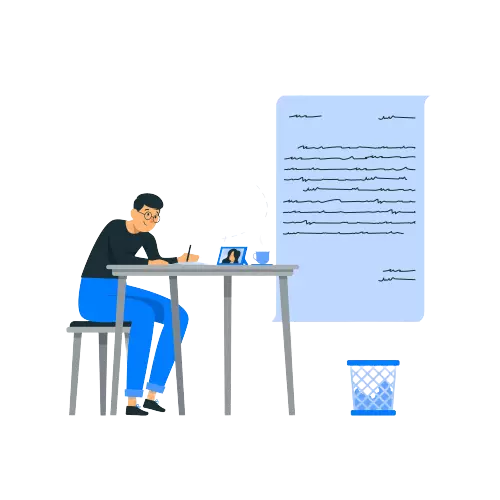 Step-4 Research your Chosen Area of Study
Researching deep into your chosen area of study is the key to selecting the most suitable and intriguing topic for your dissertation. Reading well makes one write well, after all.
You may already have a list of dissertation topics and are now looking to narrow down your choices by looking at topics and areas that have been less researched or need immediate attention. With your research, you might be able to bring it to the limelight.
Look for online free dissertation topic ideas and suggestions and note those that relate the most to your area of study and personal interests.
 Research Prospect has hundreds of free up to date and interesting topic ideas for each academic subject in our topics' library. We are also the only company to provide free custom dissertation topics along with research aim and justification to help you get started, whether you are an undergraduate or postgraduate student.
Step-5 Seek Advice
Not seeking advice from experts is another common mistake made by students. You can seek advice from your professor, colleagues, friends or anyone you think is a subject expert (has studied the same subject your thesis or dissertation pertains to).
However, before seeking help, make sure to do your initial research, get an idea of what the topic entails and decide on a few research objectives for your thesis. This will help you in receiving relevant and appropriate feedback.
Step-6 Broaden your Reach – Use Different Kinds of Sources
Sometimes the best of ideas springs up from the strangest of places. Conventional methods and resources of gathering information – reviewing past literature, reading books or journals etc. and the like – are not the only methods you can gain insight from to create an interesting research topic.
You can also turn to more vibrant methods and resources such as movies, music…and even YouTube. In fact, if you type in 'research topics' on YouTube, you will find tons of interesting videos that will help your creative juices flow. Similarly, a concept explored in a movie you saw and ended up liking could also be explored further in the light of real life, practical research samples, using real life research methods.
There is a whole world out there seeping information from its every side. Why just stick to the conventional methods of topic selection when you can broaden your search!
Interesting watch: You can also find inspiration for a research topic by watching this video.
If all else fails…
…you can always turn to logical, patterned methods that help narrow down anything, including a research topic. Those methods or patterns might be in the form of a flow chart that looks something like this: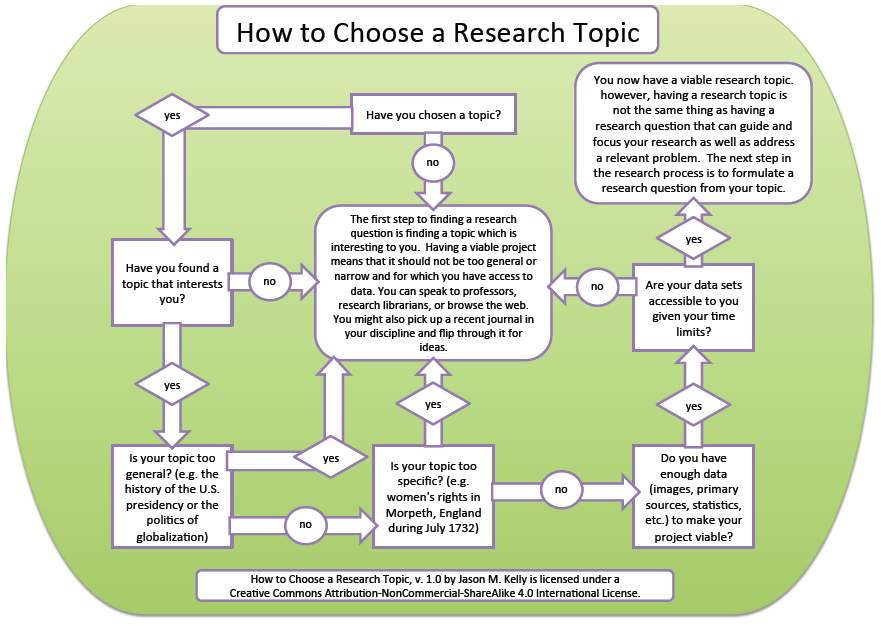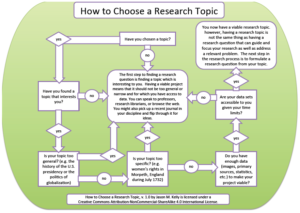 Did you know: A good topic sentence is ideally supposed to contain 12 words. Anything longer than that and your research advisor/supervisor would probably ask you to shorten it.
How to Find a Good Dissertation Topic 
Finding a good dissertation topic is a tiresome and gruelling task. Still, with little help from an expert or two in the field, you can unearth issues that are relevant and intriguing. If you cannot find a good dissertation topic, our team of dissertation writers can provide you with relevant dissertation topics, which will help you stand out in your class.
Frequently Asked Questions
To find a good dissertation topic:
Identify your field of interest.
Research current literature.
Spot gaps, debates, or emerging trends.
Consult advisors and peers.
Ensure feasibility of research.
Select a topic that's specific, relevant, and intriguing.