Personal Statement for Graduate School
Published by Grace Graffin at August 17th, 2021 , Revised On October 29, 2021
A personal statement for graduate school is your chance to show who you are and what motivates you as you prepare to apply for graduate school. Whether you are applying for a scholarship or pursuing a Ph.D. program, your personal statement should include:
Your skill sets, abilities, and interests
Your passion for the program
A tale that explicit your personality
You need to understand that a personal statement for graduate school is different from your resume, where a summary of your experience is presented, usually using a preset format. A personal statement isn't just about listing down your information but requires an explanation and elaboration of your experiences as well as your motives.
It would help if you told a story that inspires the readers and shows the reasons as to why you satisfy all the requirements of the program.
Read the Instructions Carefully
Before you start writing the personal statement for graduate school, make sure you have carefully read the instructions. Reading instructions thoroughly becomes that much more important when you are asked to respond to a specific question or when you need to write freestyle (also known as prompt).
When dealing with a prompt, you might be asked to address a specific part of your experience. This might include aspects like; your past challenges, your strengths, etc. Ensure that you answer within the specific domain and don't provide the same answer to several different questions.
A prompt provides you with the freedom to write freely about who you are, what you do, and the reasons why you are interested in the program.
It is similar to freestyle rapping, where rappers express their views comprising lyrics and poetry which tells their own story in an unorthodox way, and where the rapper focuses more on the lyrics rather than the beats.
Personal Statement Vs Statement of Purpose
So what is the difference between a personal statement and a statement of purpose?
If you are required to write a statement of purpose rather than a personal statement, it could be difficult to figure out the difference between the two as both of these terms are often interchangeable. Yet, there is a significant difference between a personal statement and a statement of purpose.
The key differences between the statement of purpose and personal statement are provided in the below table.
| General Rules | Personal Statement | Statement of Purpose |
| --- | --- | --- |
| Professional and academic interests | The personal statement allows you to write freely. Hence you will have the opportunity to showcase your personality. | A formal way of writing is required to state the statement of purpose. |
| Achievements, skillset and experience | It demonstrates your past experiences and achievements, which you can relate to within the topic's context. | You can describe your plans related to your professional or academic career, but make sure to avoid irrelevant information. |
The difference should be clearly visible if both documents are required. If just a personal statement is needed, you can include the content of both documents, which can clearly help you achieve the objective.
Learn More About Our Essay Services Order Now
Strategies for Starting Your Personal Statement for Graduate School
There is no specific model or template for a personal statement for graduate school. However, it is important to remember that the admission committee doesn't want to see any irrelevant content.
They would like to get to know about you, including your personality traits. There are some key points that you should consider when writing your personal statement.
An approach that is guaranteed to work is to start your personal statement by telling a story that describes your strengths and character. That might include:
A distinctive or unexpected experience
Learning from your academic background
Any story related to your family
Learning through your failures and experiences
This story doesn't necessarily need to be directly related to the program you are applying for, but make sure to include significant life experiences and challenges that made you what you are!
Stuck on a difficult essay? We can help!
Our Essay Writing Service Features:
Expert UK Writers
Plagiarism-free
Timely Delivery
Thorough Research
Rigorous Quality Control
Craft a Story of Development/Growth
You need to provide a sequential overview of your journey until the recent point in time. This will allow the readers to understand how gradually you have made progress and become aware of your self-worth. You might consider the following questions while narrating the story:
What fascinated you to take an interest in this field? How long have you been related to this field?
How did you approach an expert in this field? Which assignments, classes, training, internships, work experiences, and projects have helped you attain skills and knowledge of the relevant field?
Where do you want to see yourself in this specific domain in the years to come? How do you plan to do so?
What gaps did you figure out in the field? How do you plan to contribute and overcome those gaps?
You don't need to include every detail of your experience and projects in the related field. Such details might help write a CV, but not for a personal statement.
Try to be precise and relevant to the subject you want to discuss. Besides, demonstrate your personal growth by sharing how gradually you have developed certain skills/strengths and overcome weaknesses.
State the Challenges You Have Faced
If you have faced many difficulties in your academic career, it would be ideal to portray them as a strength. This will show how strong your character is and the way you handled yourself in difficult times.
Writing a personal statement is a great opportunity to present noble traits like persistence, perseverance and a strong character. You can further share:
Social and economic obstacles you faced in your academic career. Show how these experiences can contribute to getting unique and better results.
You can share how you dealt with certain issues while you were in a job, group project or maybe during your classes. Further, you can state why you had low grades and how you overcame those flaws.
The main objective is not to highlight your weaknesses and flaws but to portray and represent them as an opportunity for learning and a positive attitude.
Exhibit Your Knowledge
If you are going to apply for a Ph.D. or a research-based degree, it is better to demonstrate your knowledge about the field.
Show how passionate you have regarded the subject. What achievements have you made with your knowledge of the field?
Discuss any specific points you want to explore. Explain what prior knowledge do you have and why it is necessary?
You can relate to how your interests match the topic chosen. You can also mention any pioneer or virtuoso who inspires you in your area of study and show your desire to work with that person.
Highlight Your Goals
If you are looking to apply for a professional degree, you should clearly highlight your goals. Here you must also discuss your practical approach towards your goals and how it can help you achieve your goals. You should clearly mention your goals, no matter which career phase you are confronting.
If you have any prior experience in this profession, you should discuss how this program can take you to the next level in your professional career.
Discuss how your goals have driven you to change your career options, explain what made you change your professional line and how the previous profession can help you succeed in this field.
If you are among those who have just started your career, you can develop the reasons for how this program can help you learn the necessary techniques and guidelines for achieving the first milestone of your career.
While showcasing any of the career options discussed above, make sure you demonstrate that you have spent ample time in deciding the career path and you are going to own it in the future.
Want to know what essay structure and style will work best for your assignment?
Problem fixed! We can write any type of essay in any referencing style. We ensure every essay written is beyond your expectations.
Personal Statement for Graduate School Example
Get Help With Your Essay!
UK's Best Academic Support Services. How would you know until you try?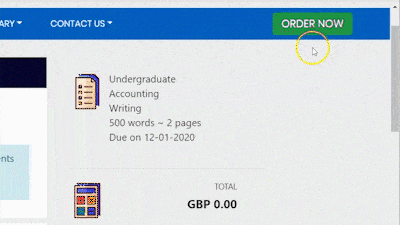 How to Improve the Above Personal Statement Example?
Although the above example is well-written, it has room for some improvement. Let's discuss what could have been included more in the example.
No reference to your academic career has been discussed in the example.
The practical aspects of your degree course should be mentioned in the example.
The writer of this example hasn't been able to showcase his personal characteristics/ personality clearly.
Tips for Writing Personal Statement for Graduate School
You don't need to write a personal statement using exclusively formal language. It is usually a bit less formal than other academic writing forms, but it doesn't allow you to be careless and untidy in your writing.
The personal statement also allows the checker to examine your communication skills in writing. Keep your content nice and brief, and avoid exaggeration. Below are some steps to develop a better piece of writing.
Interesting in getting help from a professional essay writer? Click here.
Start with an Eye-Catching Paragraph
Start your personal statement by writing an impressive introduction paragraph. Avoid stating a tedious story, which might make it hard for the reader to get involved.
Be Specific! Don't Just Go for General Statements.
You aren't meant to write general, ambiguous statements describing your passion and motives. Doing so will confuse the reader rather than making it clear to him. You can't justify your statements no matter how many details you add unless they are relevant.
Narrate in an Organized Way
Rather than giving an impression of a text or casual chat with your friend, it is recommended to narrate your story in an organized way. The story must flow smoothly, so the readers don't get confused at any stage in reading.
When explaining your personal experiences, write in a sequence. For instance, don't start your story directly with your recent work experience; rather, express your experiences in chronological order.
This will pave the way for you to start with your university experience, followed by an internship and, finally, your professional on-job experience.
Link the Dots
Remember, writing a personal statement for graduate school isn't about sharing a story with your friend or mate, but constructing a story that must link the dots of your past as well as recent experiences that fit your future goals.
There isn't any need to share out of the box; rather, try to be consistent and focused on your approach. The idea includes building a connection between each experience, which is being followed by a new experience, making the whole narration impactful and stronger.
Don't Go for Stereotypes.
Avoid using stereotypes/cliches that could put you off track because it is important to remember why you were sharing these experiences. Sharing some examples like how you helped some older people cross the road wouldn't help you secure admission to graduate school.
Nevertheless, it would portray a negative image of your personality as you try to sell yourself as a charity person. Demonstrate yourself as a strong personality, not as one to be a nice guy.