Personal Statement for Graduate School
Published by Grace Graffin at August 17th, 2021 , Revised On June 1, 2023
A personal statement for graduate school is a piece of writing that shows who you are and what motivates you; it is something you need to produce when you apply to graduate school. Whether you are applying for a scholarship or pursuing a PhD programme, your personal statement should include:
Your skill sets, abilities, and interests
Your passion for the programme
A tale that explicitly shows your personality
You need to understand that your personal statement for graduate school is different from your resume, where a summary of your experience is presented, usually using a preset format. A personal statement is not just about listing your information, it requires an explanation and elaboration of your experiences as well as your motives.
It helps if you tell a story that inspires the readers and shows why you satisfy all the requirements of the programme.
Read the Instructions Carefully
Before you start writing a personal statement for graduate school, make sure you have carefully read the instructions. A thorough reading of the instructions, also known as the prompt, becomes that much more important when you are asked to respond to a specific question or when you need to write freestyle.
When dealing with a prompt, you might be asked to address a specific part of your experience. This might include aspects such as your past challenges, your strengths, etc. Ensure that you answer within the specific domain and do not provide the same answer to several different questions.
A prompt provides you with the freedom to write freely about who you are, what you do, and the reasons why you are interested in the programme.
It is similar to freestyle rapping, where rappers express their views comprising lyrics and poetry, telling their stories in an unorthodox way. Here the rappers focus more on the lyrics rather than the beats.
Personal Statement Vs Statement of Purpose
So, what is the difference between a personal statement and a statement of purpose?
If you are required to write a statement of purpose rather than a personal statement, it could be difficult to figure out the difference between the two as both of these terms are often interchangeable. Yet, there is a significant difference between a personal statement and a statement of purpose.
The key differences between a statement of purpose and a personal statement are provided in the below table.
| General Rules | Personal Statement | Statement of Purpose |
| --- | --- | --- |
| Professional and academic interests | The personal statement allows you to write freely. Hence, you will have the opportunity to showcase your personality. | A formal way of writing is required to present the statement of purpose. |
| Achievements, skill set and experience | It demonstrates your past experiences and achievements, which you can relate to within the topic's context. | You can describe your plans related to your professional or academic career, but make sure to avoid irrelevant information. |
The difference should be clearly visible if both documents are required. If just a personal statement is needed, you can include the content of both documents, which can clearly help you achieve the objective.
Learn More About Our Essay Services Order Now
Strategies for Starting your Personal Statement for Graduate School
There is no specific model or template for a personal statement for graduate school. However, it is important to remember that the admission committee does not want to see any irrelevant content.
They would like to get to know about you, including your personality traits. There are some key points that you should consider when writing your personal statement.
An approach that is guaranteed to work is to start your personal statement by telling a story that describes your strengths and character. That might include:
A distinctive or unexpected experience
Learning from your academic background
Any story related to your family
Learning through your failures and experiences
This story does not necessarily need to be directly related to the programme you are applying for, but make sure to include significant life experiences and challenges that made you what you are!
Stuck on writing a personal statement? We can help!
Our personal statement service Features:
Expert UK Writers
Plagiarism-free
Timely Delivery
Thorough Research
Rigorous Quality Control
Craft a Story of Development or Growth
You need to provide a sequential overview of your journey until a recent point in time. This will allow the readers to understand how you have gradually made progress and become aware of your self-worth. You might consider the following questions while narrating the story:
What moved you to take an interest in this field? How long have you been involved in it?
How did you approach an expert in this field? Which assignments, classes, training, internships, work experiences, and projects have helped you attain skills and knowledge in the relevant field?
Where do you want to see yourself in this specific domain in the years to come? How do you plan to achieve this?
What gaps did you figure out in the field? How do you plan to overcome those gaps?
You do not need to include every detail of your experience and projects in the related field. Such details might help write a CV, but not a personal statement.
Try to be precise and relevant to the subject you want to discuss. Also, demonstrate your personal growth by sharing how you have gradually developed certain skills/strengths and overcome weaknesses.
State the Challenges you Have Faced
If you have faced many difficulties in your academic career, it would be ideal to portray them as strengths. Explaining how you handled yourself in difficult times will show how strong your character is.
Writing a personal statement is a great opportunity to present noble traits like persistence, perseverance, and strong character. You can further share:
Social and economic obstacles you faced in your academic career. Show how these experiences can contribute to getting unique and better results.
How you dealt with certain issues while you were in a job, group project, or maybe during your classes. Further, you can state why you had low grades and how you overcame those difficulties.
The main objective is not to highlight your weaknesses and flaws but to portray and represent them as opportunities for learning and taking on a positive attitude.
Exhibit your Knowledge
If you are going to apply for a Ph.D. or a research-based degree, it is better to demonstrate your knowledge about the field.
Show how passionately you have regarded the subject. What achievements have you made with your knowledge of the field?
Discuss any specific points you want to explore. Explain what prior knowledge you have and why it is necessary.
You can demonstrate how your interests match the topic chosen. You can also mention any pioneer or virtuoso who inspires you in your area of study and show your desire to work with that person.
Highlight your Goals
If you are looking to apply for a professional degree, you should clearly highlight your goals. Here you must also discuss your practical approach towards your objectives and how it can help you achieve them. You should clearly mention your goals, no matter which career phase you are confronting.
If you have any prior experience in this profession, you should discuss how this programme can take you to the next level in your professional career.
Discuss how your goals have driven you to change your career options. Explain what made you change your professional line, and how your previous profession can help you succeed in this field.
If you are among those who have just started a career, you can develop the reasons for how this programme can help you learn the necessary techniques and guidelines for achieving the first milestone of your career.
While showcasing any of the career options discussed above, make sure you demonstrate that you have spent ample time in selecting a career path, and that you are going to own it in the future.
Want to know what essay structure and style will work best for your assignment?
Problem fixed! We can write any type of essay in any referencing style. We ensure every essay written is beyond your expectations.
Personal Statement for Graduate School Example
Get Help With Your Assignment!
UK's Best Academic Support Services. How would you know until you try?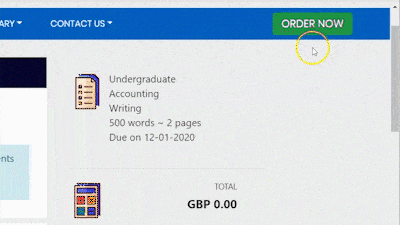 How to Improve the Above Personal Statement Example?
Although the above example is well-written, it has room for some improvement. Let's discuss what could have been included more in the example.
No reference to an academic career has been discussed in the example.
The practical aspects of the degree course should be mentioned in the example.
The writer of this example has not been able to showcase his personal characteristics or personality clearly.
Tips for Writing a Personal Statement for Graduate School
You do not need to write a personal statement using exclusively formal language. It is usually a bit less formal than other academic writing forms, but it does not allow you to be careless and untidy in your writing.
The personal statement also allows the checker to examine your communication skills in writing. Keep your content nice and brief, and avoid exaggeration. Below are some steps to develop and structure a better piece of writing.
Interested in getting help from a professional essay writer?
Start with an Eye-Catching Paragraph
Start your personal statement by writing an impressive introduction paragraph. Avoid stating a tedious story, which might make it hard for the reader to get involved. The theme of this paragraph can be an account of something that highlights your personality, or you can open with what it is that really drives you for the subjects you want to study.
Be Specific! Don't Just Go for General Statements
You are not meant to write general, ambiguous statements describing your passion and motives. Doing so will confuse the reader rather than making it clear. No matter how many details you add, you cannot justify your statements unless they are relevant.
Narrate in an Organised Way
Rather than giving an impression of a text or writing like you are having a casual chat with a friend, it is recommended to narrate your story in an organised way. The story must flow smoothly, so the readers do not get confused at any stage in reading.
When explaining your personal experiences, write in a sequence. For instance, do not start your story directly with your recent work experience; you should, rather, express your experiences in chronological order.
This will pave the way for you to start with your university experience, followed by an internship and, finally, your professional on-the-job experience.
Link the Dots
Remember, writing a personal statement for graduate school is not about sharing a story with your friend, but constructing a story that links the dots of your past as well as recent experiences that fit your future goals.
There is no need to share out of the box; instead, try to be consistent and focused in your approach. The idea includes building a connection between experiences, which are then followed by new experiences, making the whole narration impactful and stronger.
Do not Go for Stereotypes
Avoid using stereotypes/clichés that could put you off track; it is important to remember why you are sharing these experiences. Sharing some examples like how you helped some older people cross the road would not help you secure admission to graduate school.
Nevertheless, it would portray a negative image of your personality if you tried to sell yourself as a charity person. Demonstrate yourself as a strong personality, not as someone hoping to be seen as a nice guy.
How to Conclude Your Personal Statement
Unlike a conventional essay, the concluding paragraph of your personal statement does not repeat what the introduction says, nor does it summarise it as a whole. Do not end by assuming your application will be accepted: 'I look forward to studying at…' You do, however, return to the original focus – the course you want to pursue and what you want to gain from it. Align the course with what you want and need; say why the school and the course are a perfect fit for you.
If there are specific faculty members or professors there, show your enthusiasm to learn from them. If you are applying for further professional training, you could hint at your career aspirations. You can think big here, and show that it is not all about you. What will it mean to the world if you achieve your educational goals and go out there to share your skills? All of this should be neatly contained within four or five sentences.
In Brief – Your Guide to Writing an Excellent Personal Statement 
Read the instructions carefully
Understanding exactly what you are expected to do will help you to frame your statement. Constantly remind yourself that you are writing a personal statement for graduate school. Not reading the instructions – the prompt – carefully could result in an irrelevant statement.
Focus on academia
The purpose of your statement is to demonstrate you are the right person for the academic course you want to study. For this reason, you should devote the majority of your statement to showing your academic achievements. Display your knowledge and discuss the areas you want to explore further.
Be specific
General statements are not strong enough. "I want to study maths because I like working with numbers" is weak and vague. If you want to study maths because you will need it when you are working on the next space programme, that's a bit more specific.
Do not stereotype yourself
Describing yourself with cliché phrases will really help you – to blend into the background! You are a unique individual, there is no one like you, never has been, and never will be. Do not be afraid to point out something interesting about yourself that you might not be able to say about anyone else.
State your goal
Saying that you want to study a subject in order to achieve a certain goal is stronger than saying you just want to study it. There is a definiteness of purpose behind having a target as opposed to only having an interest in the subject. You don't just want to do the course, you absolutely must do it.
Steer the interview before it starts
Your interviewer only knows you from your personal statement. If you mention the texts and material you know best, you will be able to talk more confidently and at more length about them in an interview. If you refer to something you only briefly touched on just because it sounds impressive, that fact will become apparent when you are asked to talk about it.
Narrate in an organised way
The person who reads your statement will read a hundred more that week, so make it easy to read. Write in chronological order where you can and preferably in a logical sequence. An untidy or confusing piece of work is not memorable, at least not for the right reason.
Make it a 'personal' statement
Your fellow students have attended the same course as you and may refer to the same material in their statements; but their experiences and motivations are different. Give your reader a snapshot of these things with anecdotes, and talk about that 'spark' moment that lit your interest for your chosen subject. This is not an excuse to try and be funny; they are looking for a serious student, not a comedian.
Talk about your interests
Schools prefer well rounded, sociable students. You can demonstrate this by showing your interest and engagement in sports and activities. Showing that you are involved in team pursuits such as sports, music, drama, or debating can be beneficial in making this point.
Show responsibility
Showing where you have demonstrated responsibility, such as being a prefect, monitor, or librarian shows you have some maturity. It scores extra points by revealing that you are willing to give up your free time for the benefit of others or for a general good cause.
Talk about your challenges
Relating any challenges you have faced in the course of your education can showcase your personal growth. And overcoming a challenge is something you can paint as a strength on the image you are trying to convey.
Build on your hobbies
Merely listing your interests and pastimes is not enough. You can build on them by pointing out how playing chess, for example, taught you to focus on an issue and consider all the options before making decisions.
Ask others about yourself
We think we know ourselves better than anyone else can. But there are things that others see in us that we do not readily acknowledge. This is possibly because we are modest or because we were instilled with some good qualities by parents and perceive them as standard. Ask your friends to be honest and find out what positive traits and talents they see in you.
Check your work several times several times (!)
Your personal statement will be one of the most important pieces of written work you produce. If you need help, it is always available. It simply has to be the highest quality you can manage. Proofread for errors of any kind, then ask someone else to check it. Then repeat this process until you are 100% sure.
Frequently Asked Questions
Your personal statement is likely to be from 500 to 1,000 words long. It is not a long essay and requires the discipline of writing concisely. Every word has to justify its inclusion, phrases that use several words should be cut down to as few as possible – it needs to be concise and precise. Sometimes less is more. A too-long statement risks being skim read because the person reading it has to read hundreds of them and will appreciate one that is expertly written.
Your personal statement for graduate school should be tailored to and focused on the course(s) offered by a specific school. If you wish to apply to another school offering similar courses, you can alter the relevant parts of your statement so that it fits. This can be risky because it is very easy to miss details, causing you to have irrelevant points in your statement. Applying to a subsequent school might mean a different prompt, in which case your response may need to be markedly different. Also, there could be different word count limits. Also consider that if your original personal statement can be used to apply to another institution without too much alteration, doesn't that suggest that it was not originally tailored enough to that school?
While they are important, your extra-curricular activities and interests absolutely must be relevant. There is no room for saying you support the team that is local to the school you are applying to in the vain hope that your interviewer does too. Ask yourself if what you intend to include demonstrates anything important about you, such as giving up your time to teach English to immigrants or voluntarily helping a local orchestra because you want to study music. Although not always obvious, links between your activities and your subject will be very valuable; experienced writers can spot these links. This should be a minimal list, though, rather than exhaustive. If in doubt, leave it out.
You should not say that you have done something that you have not. How far can you exaggerate something before it becomes a lie? Also, this is the information era, and things can be found out. What would happen if you were required to prove an exaggerated claim? Besides, if your exaggerated point was the dealbreaker to get you accepted, how would you feel knowing you did not fully earn your place? Remember that your interviewer only knows the things about you that you put in your statement. So be prepared to be questioned deeply on everything you say. Sometimes writing about yourself is very tricky and as such, you can really benefit from help from someone who does not know you.