How to Write a Dissertation Proposal
Published by Anastasia Lois at August 14th, 2021 , Revised On June 22, 2022
A first-class dissertation proposal is the benchmark and guarantee of a successful dissertation. So how exactly do you write an impressive first-class research proposal?
Your dissertation proposal project's success largely depends on your topic selection and whether or not you have a clear research plan for how you would contribute to the existing knowledge.
This article explains the purpose, structure, and core elements of a dissertation proposal.
What is a Dissertation Proposal
What exactly is the purpose of a dissertation proposal, and what should be included in it
The proposal paper is the foundation or basis of your dissertation. It is quite different from other academic papers, such as case studies and essays.
Essentially, a dissertation proposal is a plan and layout for your dissertation that provides details of the needs to address your research objectives. It gives an insight into the research methodology that would enable you to collect primary and/or secondary data and analyse the results.
Your dissertation proposal should clearly outline your selected topic, the objectives you wish to achieve, the research problem you intend to address, and the procedure you have chosen to research the topic and provide substance for it.
Before you can begin writing the proposal, you must choose a topic for your dissertation. You will need to choose from your supervisor's list of topics or propose a topic for approval in most cases.  You will need to justify your choice of topic by demonstrating that it is unique, manageable, and relevant to your field of study.
At the undergraduate and Master's levels, students are provided with the structural guidelines and the marking criteria. But if you are unsure about the structure you need to follow, don't hesitate to consult your supervisor. The structure of the proposal depends on your academic level, academic subject, and country of study.
Essentially, a dissertation proposal will furnish a plan to move ahead with your dissertation and execute your research.
How to Write a Dissertation Proposal
Read your school's guidelines on the structure, formatting, and writing style to produce a first-class dissertation proposal. All these core aspects of your dissertation proposal should align with either your department's guidelines or the accepted standard of your academic level.
The structure of your research proposal should be insightful yet not too elaborative. Do not cram up space with too much detail in your dissertation proposal as it is a framework or guide map to your main dissertation paper, and should, therefore, provide concise but lucid information about the background to your research topic, its justification, objectives, and the research methodology.
Typical contents of a dissertation proposal are as follows:
Research aim
Action Plan (Project Timeline)
Any Supporting Sections Essential to the Research Proposal
The research proposal language or tone should adhere to accepted formal academic standards. Your supervisor would be looking for academic merit and intellectual ability when assessing your research proposal.
Ensure that your dissertation proposal contents are well thought out, conspicuous, and reflect high intellectual abilities.
Pay close attention to the formatting, layout, and presentation of your dissertation proposal. These are considered prerequisites to writing a first-class research proposal.
A comprehensible and crystalline presentation of your work can add to the clarity and visual appeal of your dissertation proposal, which will enhance the overall quality of the paper.
Even if you have the appropriate content material for your research proposal but have not paid attention to the presentation and formatting, the quality of your research proposal would be hampered, and it might not get you the desired grade.
Once you have written the core contents of your dissertation proposal, pay careful consideration to create an appealing layout for the contents to ensure clarity and a smooth flow of information.
Ensure that formatting is according to the requirements and the structuring is well synced with the layout of your research proposal because this would make your research proposal more attractive to the reader and add to its overall quality and appeal.
While academic merit and intellectual ability through well-written content are prerequisites for an academic paper, presentation and planning are equally important for writing a winning dissertation proposal.
Struggling to kick start your dissertation project? Unable to find an interesting and manageable research topic? Have a stringent deadline that looks impossible to fulfill? With our dissertation proposal writing service, you will be getting several intriguing topic ideas in your preferred area of study to choose from and a proposal paper according to the required formatting guidelines.
Hire an Expert Writer
Proposal and dissertation orders completed by our expert writers are
Formally drafted in an academic style
Plagiarism free
100% Confidential
Never Resold
Include unlimited free revisions
Completed to match exact client requirements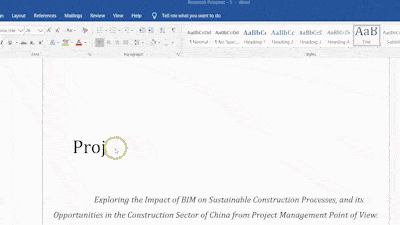 The Importance of Introduction Section
It is recommended that you and your supervisor agree on your dissertation proposal's structure before writing.
Some standard sections are the essential elements of a first-class research proposal. The introduction section is one such part that is included in all academic proposals.
The introduction of a dissertation proposal aims to highlight your chosen topic with basic arguments and justification of the need for researching your chosen topic.
The introduction section is considered the essence of your research proposal primarily because it outlines the boundaries of;
The research topic
Any distinctive theoretical and conceptual frameworks
The type of research that you plan to undertake.
When selecting a topic for your dissertation, make sure that the subject chosen is current, colossal enough to enable you to achieve your objectives, and exciting enough to engage your readers.
The ability to break your research problem into smaller pieces (research questions) is vital to your research proposal's success. This can be achieved by exploring the topic in your own time. Find for and against arguments to your research question.
Your dissertation proposal introduction should clearly define your dissertation's aim and research questions, enabling the readers to gain a complete understanding of what objectives you plan to achieve through your research.
Remember to keep the research questions of your research lucid, purposeful, and achievable. Do not try to step out of the boundaries of your topic field and define goals that are too wide to be covered in your dissertation.
Format of Your Dissertation Proposal
The formatting of your dissertation proposal is as important as the quality of the content material. When you define the layout of your research proposal, remember to plan the formatting points, including how you would highlight important points and aspects in the structure.
Try to emphasise key points of your proposal contents through bullets and lists, including headings and subheadings where appropriate to illuminate salient features such as objectives,  justification, or hypothesis to the reader.
Many academic institutes have their proposal format guidelines that students must follow, while others are flexible regarding the format and structuring of the dissertation proposal.
When writing your dissertation proposal and planning for your proposal's layout, make sure that you have considered your academic institute's format and structuring guidelines.
Typically, a research or dissertation proposal format includes standard sections of introduction, aim, and objectives followed by supporting sections of methodology and literature review.
Once you have drafted the introduction section as highlighted earlier, you can add a brief section regarding research design explaining the type of research you plan to undertake along with any primary and secondary research techniques that you plan to use to achieve your dissertation aims and objectives highlighted in your proposal.
Next, you can add a literature review section in your dissertation proposal to provide an overview of the chosen research topic, presenting arguments available in existing literature regarding the topic and highlighting the work and theories of other scholars in your field of study.
This section should be comprehensive to add to the clarity of your dissertation proposal. Once you have completed drafting the contents of your dissertation proposal, proofread thoroughly to make sure there are no spelling or grammatical errors.
Read through the proposal twice to hone it further before submitting it.
Also Read: Dissertation Help From UK's Best Dissertation Writing Service
Length of Your Dissertation Proposal
The length or word count requirement of a dissertation proposal assignment is typically stated in the guidelines/instructions provided to you by your university.
A research proposal is like a sales pitch to the readers, so one of the key skills you should demonstrate is to encourage your readers to wait for your research to be completed to find answers to the research questions.
The contents should be engaging, so do not add unnecessary detail. Keeping the contents conspicuous is essential to write a first-class dissertation proposal.
If you are wondering how to write a first-class dissertation proposal that gets you a distinction, then be sure to keep the above-highlighted pointers in check before you start on your journey towards writing a standout dissertation proposal paper.
At Research Prospect, we have a team of hundreds of expert academics who have helped thousands of students with their proposals, dissertation, and essays over the last several years. If you find yourself stuck in a rut, then you might want to take a look at our proposal writing service.