How to Cite a Dissertation in Harvard Style
Published by Alaxendra Bets at August 27th, 2021 , Revised On September 25, 2023
What is a Dissertation?
In the UK, countries of Western Europe, as well as New Zealand and Australia, the term 'dissertation' is used instead of a 'thesis.' The majority of the remaining countries in the world prefer to use 'thesis' instead of 'dissertation.'
Both represent the same thing, though: a full-length, academic piece of writing that students must submit after their undergraduate, post-graduate (Master), or PhD studies.
More specifically, a dissertation can refer to:
Large-scale research as part of a degree.
An article based on a small-scale study as part of a degree.
A review of another study, research or an accumulation of both.
Other full-length body texts are a requirement of the student's degree program, no matter which level it is.
1.    Basic Format
In Harvard, the following in-text citation format is used for the dissertation:
(Author Surname, Year Published)
For example, 'Occasionally the talent for drawing passes beyond mere picture-copying and shows the presence of a real artistic capacity of no mean order. (Darius, 2014)'
In Harvard, the following reference list entry format is used for the dissertation:
Author Surname, Author Initials. (Year Published). Title of the dissertation in italics. Level. Institution Name.
For example, reference list entry for the above source would be:
Darius, H. (2014). Running head: SAVANT SYNDROME – THEORIES AND EMPIRICAL FINDINGS. University of Skövde, University of Turku.
However, a slightly different format is also used in some institutions. According to that, in-text citations are done in the following way:
Author surname Year, p.#
For instance, Exelby (1997, p. 3) described the process … OR … processing gold (Exelby 1997, p. 3).
But in the case of reference list entries, these 'other' institutions recommend naming the dissertation title not in italics but in single quotation marks. The format would then be:
Author Surname, Initials Year of Publication, 'Title of thesis in single quotation marks', Award, Institution issuing degree, Location of the institution.
So, according to this format, the above example's reference list entry would be:
Exelby, HRA 1997, 'Aspects of Gold and Mineral Liberation', PhD thesis, University of Queensland, Brisbane, Qld.
Whichever format is followed largely depends on one's institutional guidelines. The format specified by the university is the one that should be followed. Furthermore, it should be followed consistently throughout a manuscript.
2.    Citing a Dissertation Published Online
The format for both in-text and reference list entries is the same for online and print dissertations. For example:
In-text citation: (Ram 2012) OR (Ram 2011, p. 130)
Reference list entry: Ram, R 2012, 'Development of the International Financial Reporting Standard for Small and Medium-sized Entities', PhD thesis, The University of Sydney, viewed 23 May 2014, <http://hdl.handle.net/2123/8208>.
An important point to note: While referencing dissertations published online, the URL may or may not be enclosed within < > symbols. Whichever format is chosen, it should be used consistently throughout the text.
3.    Citing an Unpublished Dissertation
This type of dissertation also uses the same formatting for in-text and reference list entries in Harvard style. For example:
In-text citation: (Sakunasingha 2006) OR (Sakunasingha 2006, p. 36)
Reference list entry: Sakunasingha, B 2006, 'An empirical study into factors influencing the use of value-based management tools', DBA thesis, Southern Cross University, Lismore, NSW.
Hire an Expert Writer
Orders completed by our expert writers are
Formally drafted in an academic style
Free Amendments and 100% Plagiarism Free – or your money back!
100% Confidential and Timely Delivery!
Free anti-plagiarism report
Appreciated by thousands of clients. Check client reviews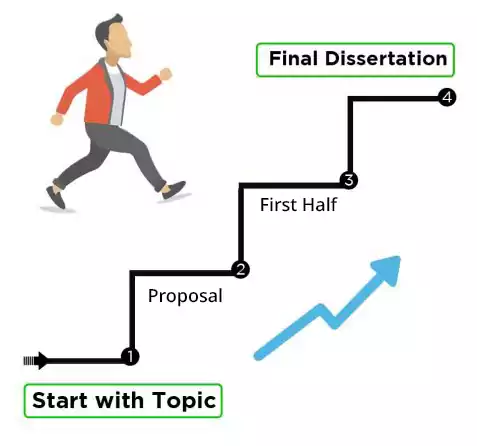 Frequently Asked Questions
To cite your dissertation, follow your chosen citation style (e.g., APA, MLA). Generally, include author name, year, title, and source details. For APA: Author. (Year). Title. Source. For MLA: Author. "Title." Degree, University, Year.