A Guide to Writing the Best Personal Statement for Your College Application
Published by Jamie Walker at August 12th, 2021 , Revised On February 9, 2023
Getting admission into the desired institution is a dream of most prospective students. It involves many necessary steps, such as academic scores, recommendation letters, and personal statements. It is necessary to the contents of the personal statement, its importance, and the strategies to make your statement stand out.
What is a Personal Statement?
The personal statement reflects your qualifications, expertise, interests, and achievements. It would be best if you wrote about yourself to persuade the admission committee – you are eligible to get admission into their institution and how you can be a valuable addition to their community.
Why do Universities Ask for a Personal Statement?
Many institutions and universities ask for a personal statement because they want to know about the student from various perspectives irrespective of his/her grades and academic skills. Your personal statement talks about your overall personality as a human.
What to Include in your Personal Statement?
You should include the following points in your personal statement:
Future career objectives and goals
Previous study details
Work experience (if you have any)
Extracurricular skills and creativity and your interests
Personal history if you want to share an incident, tragedy, or turning point of your life.
Incidents or reasons that affected your studies at any point in your schooling or college
Reasons and interest to apply and get admission into the chosen institution
Plans and perceptions for meeting the academic objectives of the course
Writing skills
What Makes an Impactful Personal Statement?
Write your First Draft
You can write your first draft without focusing on its length. This will help you include all the essential information together. However, you can edit it later by removing the less important stuff.
Keep it Clear and Concise
The length of personal statements for undergraduate applicants is 400-600 words, whereas postgraduates applicants need around 1000 words. The length may vary according to various universities. However, the idea is to talk about yourself concisely without stuffing in too many words and sentences.
Avoid Irrelevant Information
The phrase personal statement sounds like you need to stuff in all your personal details, and it's actually about writing yourself. The question arises here;
How much and what should you mention about yourself?
Personal information doesn't mean to include all the events and incidents of your life, which are essential to you. Instead, it would help if you only talked about the incidents, information, or details relevant to your personality and admission process. Hence, you should use information related to the qualities that make you a perfect fit for admission.
Focus on your Strengths
Your personal statement aims to convince readers about your skills and personality. It would help if you focused on your strengths rather than talking about your personality's negative aspects. It doesn't mean you should be dishonest. Avoid making negative statements, such as;
I'm not good at accounts/maths/drawing/ sports.
I'm not good at essay writing.
I wanted to take a medical course, but I could score much in its entrance exam.
I tried to learn French, but I could not complete the course and left halfway due to lack of time.
You should avoid this if you want to make your statement sound perfect. Instead, you can talk about your career, goals, achievements, plans, ideas, and much more that reflects your strengths.
Be Honest
It's essential, to be honest, as you are not submitting any personality certificate that includes your scores and grades as a person. It would be best if you were honest to talk about the only real things and the incidents in reality. Never try to create any imaginary or fake information intending to impress the admission committee.
Don't Aim to Impress
You indeed have to express yourself in a way that gets you inside the doors of your chosen university. At the same time, you need to be careful and humble enough to achieve it. Many students try to praise themselves and talk about the abilities that they don't possess, or sometimes they focus mainly on impressing the readers.
For instance: if you say that
You saved someone's life.
If you reach your destination, you'd love to help needy people by spending all your money.
You talk about unrealistic goals and tasks; then it may impression that you are trying to impress someone. Unfortunately, this attempt may lead to failure.
Select an Impressive Opening line
You need not struggle to include a strong opening line as you can add it later, even after completing your writing. However, the opening line may occur to your mind at any time, so you don't need to spend time including heavy phrases and statements.
Write it Before the Deadline
Always try to make time to write your personal statement peacefully without having the pressure to submit it soon. If you write before a few days of the deadline, then you will be able to change it according to the suggestions made by others who proofread it.
Get Help With Your Personal Statement!
Personal statement written by our expert writers are;
Clear and coherent
Make use of correct grammar and sentence structure
Includes recurring themes for multiple different courses
Showcase your achievements, experiences, and soft skills
Completed to match exact client requirements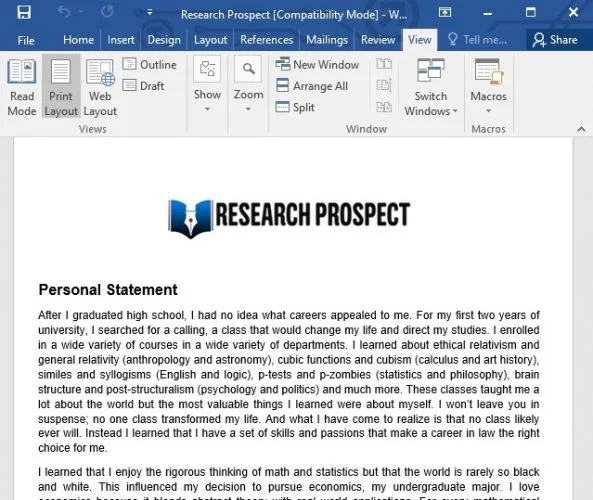 .
Avoid Copying
It's okay if you are going through personal statements of your siblings, friends, or online examples to get an idea. However, you should never copy others' personal statements as it can lead to the offence of plagiarism. Many Universities check your statements through a plagiarism tool, and your over-smartness can lead to the rejection of your application.
Proofread
You need to proofread it before submitting it and edit it if you find any mistakes or excessive information. You can ask your friends, teachers or parents to read it.
Example Personal Statement Format
The personal statement also follows a standard format like an essay, including an introduction, body, and conclusion. You can take a look at the following points to understand what to include in each section.
Opening lines: Introduce yourself briefly using perfect opening lines and engage the readers from the first line itself.
First paragraph: Talk about your previous academic course, including your academic performance, extracurricular skills, and achievements.
The second paragraph: write about your interests and desire to apply in a particular institution and try to answer the questions concisely.
Why do you want to apply to this particular institution? (research about the institution and its faculty so that you provide a valid reason for your interest in studying in a selected college)
Why are you interested in a particular subject?
What will be your contribution to the University while pursuing this course successfully? What are your plans and thoughts on it?
What will be your career objectives after completing this course?
Conclusion: Here, you need to sell yourself, and you can do it by convincing the reader that you are an eligible candidate to get admission to a particular institution.