Tips to Avoid Plagiarism in a Dissertation
Published by Jamie Walker at August 16th, 2021 , Revised On August 24, 2023
Introduction – What is Plagiarism?
Before we learn how to avoid plagiarism in the dissertation, let's understand what plagiarism is. Plagiarism can be defined as "copying someone else's work and ideas, and passing them as your own work, without giving due credit to the original author." This can include copying quotes and text from journals, books, magazines, or any other text material.
It is vitally important for students to learn to avoid plagiarism in a dissertation to avoid penalties. When writing your dissertation, you need to make sure that your research is 100% plagiarism-free, and the concepts and ideas expressed throughout are solely yours. Always make sure that you cite any academic sources used in your research.
For instance, if you're writing about a specific model, provide details of that in your own words and give due credit to the author. When using direct quotations in your dissertation, make sure you are enclosing them in quotation marks and clearly indicating the academic source the material was taken from.
Doing so will help you avoid dissertation plagiarism and the resulting consequences. Dissertation plagiarism is a serious crime and could result in serious consequences. To help you, here are some guidelines and tips to avoid plagiarism in the dissertation.
Here is a step by step guide on how to write a First Class dissertation paper. 
Paraphrasing to Avoid Plagiarism in Dissertation
Paraphrasing refers to using the same idea as explained by someone else but explaining it in different words. However, this does not always work, and is generally considered dissertation plagiarism among academic communities, and might land you in trouble.
Thus, while paraphrasing, make sure that you read the complete content and start writing with what you've learnt. In this manner, your learning will also be reflected, and you will avoid plagiarism in the dissertation.
Also Read: How to Paraphrase Academic Sources?
Improve the language, structure, style, and overall quality of your work. Get help from our experienced dissertation editors to improve the quality of your paper to First Class Standard. Click here to learn more about our Dissertation, Editing and Improvement Service."
Writing in your Own Style
Many students copy other authors' styles to make their research stand out from the rest and achieve high academic grades. However, this is not a recommended practice. Always write in your own unique style. You can achieve a good grade with your own way of understanding concepts, theories and models, and copying someone else's writing style.
What matters the most is the depth of your research and the accuracy of the data presented. Your academic tutor is likely to be completely aware of your own unique writing style, thus using vocabulary that doesn't suit your style or following a different writing approach, or even using resources that you don't usually refer to might make him suspicious.
Keeping your own style is one of the best ways to avoid plagiarism in the dissertation.
Why not take advantage of our UK-based dissertation writing service? Your dissertation is the most important part of your degree, and for that reason, you cannot risk failing it. With our custom writing service, you are guaranteed to have all your dissertation paper elements put into the right place. Our expert academics can help you with your full dissertation paper or a part of it.
Research Prospect Plagiarism Checker
Choice of students across the globe.
Rated highly by independent review websites
Comprehensive plagiarism reporting
Largest database of academic sources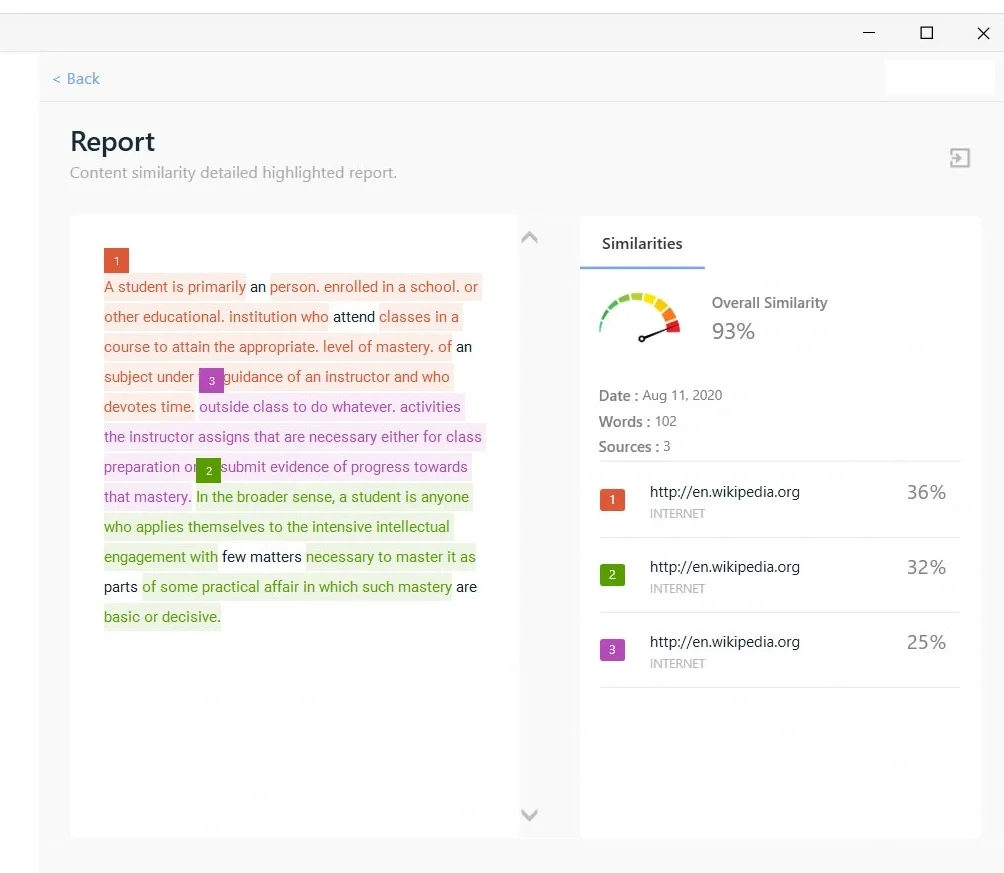 Using Dissertation Plagiarism Checker
This is one of the safest ways to avoid plagiarism in the dissertation. There are various plagiarism detection software (also referred to as dissertation plagiarism checkers) that help students determine if any part of their dissertation is plagiarised. One of the best-known plagiarism checkers is Turnitin, but before you can use it to detect plagiarism in your dissertation, you will first need to learn how Turnitin works.
Did you know that the Research Prospect plagiarism checker is as good as Turnitin and it costs only a fraction of what Turnitin might cost?
Submit your paper in Turnitin plagiarism checker or Research Prospect plagiarism checker and the software will start to scan your content for plagiarism. Within a few minutes, the software will create a plagiarism report – highlighting all sentences and paragraphs that are plagiarised. The report will even provide links to the pages where similar content has already been published.
What you can do is remove plagiarism to make your dissertation unique. To do so, try paraphrasing the plagiarised content (remember to use your own writing style). Paraphrasing will eliminate plagiarism from your paper.
On the other hand, if there are certain definitions in your dissertations, they will also show up in the plagiarism report. Still, they won't cause a problem if you've cited and referenced them accurately and enclosed them in quotation marks.
Dissertation Plagiarism Example – Turnitin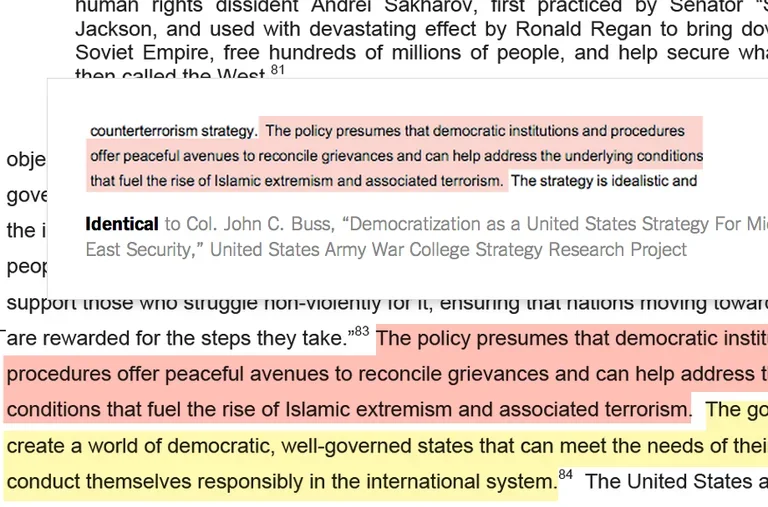 Stay Away from Free Plagiarism Removing Tools
While searching for techniques on 'how to write a plagiarism-free dissertation', you might come across various free plagiarism removing tools (spinners, rewrites, etc.) that are usually very tempting. However, saving a little bit of time and effort here could cause you to suffer heavily in the future.
These tools aren't authentic and do not remove dissertation plagiarism accurately. Some of them might obliterate dissertation plagiarism but will compromise the quality of the content.
As a result, there will be no coherence in your paper, and the quality of your dissertation paper will suffer due to poor vocabulary and poor grammar.  Thus, make it a point to stay away from these nasty tools.
Cite and Reference Accurately
Citing and referencing are the two important factors that are often overlooked when writing a plagiarism-free dissertation. It is important to realise that plagiarised content in your dissertation can put a damper on your spirits if you get caught.
Always properly cite the ideas, models, theories, and concepts used in your dissertation paper. This will help you avoid plagiarism in your dissertation at all times. Your academic supervisor, being highly experienced, is likely to be aware of whether or not you have conducted research and written your dissertation paper on your own.
An example of in-text citation (in APA style):
Research shows that there is a great need for … (Reynolds & Thomas, 2014)
Example of reference list entry (in APA style):
Reynolds, R.S., & Thomas, A.H. (1998). Competitive Strategy: Techniques for Analyzing Industries and Competitors (3rd ed.). New York, NY: Free Press
Avoiding plagiarism in a dissertation is a challenging yet manageable task. You can work on the steps mentioned above and make sure that your dissertation is free from plagiarism. If you're still finding it hard to complete your plagiarism-free dissertation, get in touch with us.
Our dissertation writers are highly qualified and can improve your dissertation paper to make it 100% plagiarism-free. Whether you need help with a full dissertation or just a part of it, we can promptly satisfy your requirements.
Frequently Asked Questions
Consequences of online plagiarism include damaged reputation, academic penalties, legal actions, and loss of credibility. It undermines originality, hampers learning, and violates ethical standards in both educational and professional settings.