Dissertation Writing Guidelines – A Brief Guide for Beginners
Published by Ellie Cross at January 26th, 2023 , Revised On February 7, 2023
A dissertation is a scholarly work that is written after completing an undergraduate or graduate degree. It is a document that proves that you have fully completed your academic program and can now speak on the topic of your study.
But it takes work to write a dissertation. Therefore, it is important to read dissertation writing guidelines instead of directly jumping to them.
Dissertation writing Guidelines provide a step-by-step guide for writing a dissertation. Dissertation writing guidelines can provide the essential information you need to write a successful dissertation. This article provides tips on structuring your paper, planning your research, and improving your writing skills. 
By following these guidelines, you will be sure to produce a high-quality dissertation that meets the expectations of your academic institution.
Get to Know your Strength and Weaknesses 
Assess your strengths and weaknesses as a writer. This will help you identify which areas need more work and which strengths you can build on in your dissertation.
Prioritize your Goals
Prioritize your goals for writing the dissertation. Once you have assessed your strengths and weaknesses, it is important to prioritize what you want to achieve with the document. Please do not get overwhelmed by the task of writing a dissertation; break it down into small, manageable steps. This will help you stay organized and motivated throughout the process.
Define the Purpose of the Dissertation 
First and foremost, you should have a clear thesis statement at the heart of your dissertation. This statement should be based on your research and reflect your conclusions. Define the purpose of your dissertation early on. This will help you focus your research and writing.
Draft an Outline
Start by drafting an outline. A good way to get started is to create an outline corresponding to your dissertation project's structure. This will help you stay organized as you write and will also help you avoid making any major errors in syntax or organization early on in the process. 
Proper References and Citations 
You should also ensure that your data is properly organized and cited in your text. This will help support your arguments and help readers understand how your findings relate to existing literature. Include research results in the manuscript by referencing each study you used in your work. The more attention you can pay to the format, the better.
Use Clear Language
Use clear, concise language when describing your findings. Many students need help writing clear, concise language. To start with, always use active and concrete language. For example, instead of saying, "I am not sure if I understand what you mean," try ", Can you please clarify what you are trying to say?" This will make it easier for your reader to understand what you are saying and avoid confusion. 
Dissertation Format
A dissertation can be in any format, but it most commonly consists of an introduction, body, and conclusion. The introduction will give the reader an overview of your thesis and how it relates to the field of study. The body will contain the research findings and arguments supporting your thesis. Finally, the conclusion will summarise your findings and suggestions for future research.
Be Ready for Unexpected Challenges 
Plan ahead for any unexpected challenges that may arise. For example, be sure to account for formatting or citation issues that may come up later on in the process.
Be Patient
Be patient and consistent with your work – keep going until you've even begun! Remember, a good dissertation is worth its weight in gold – don't let it go to waste by rushing through the process!
Proofread your Work 
Finally, ensure you proofread your work carefully before submitting it for review.
It is essential that all dissertation writing be flawlessly executed in order to achieve the best possible results.
Order a Proposal
Worried about your dissertation proposal? Not sure where to start?
Choose any deadline
Plagiarism free
Unlimited free amendments
Free anti-plagiarism report
Completed to match exact requirements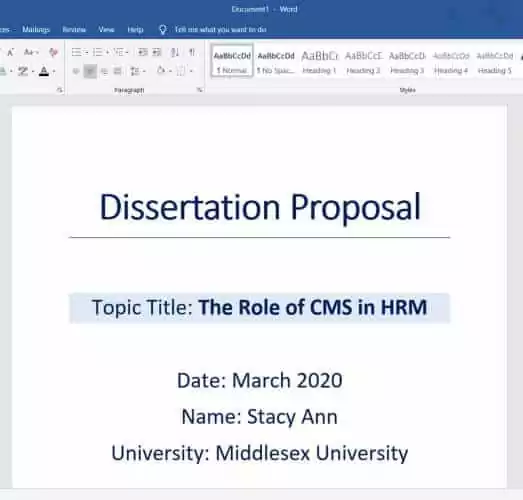 Why are Dissertation Guidelines Important?
The dissertation writing guidelines provide succinct and organized steps for students to complete dissertations. The guidelines are designed to help students stay on track and submit their work on time. These guidelines include step-by-step instructions, sample essays, and example questions. The guidelines also offer helpful tips for improving the quality of your work.
They can help you stay on track and avoid common mistakes in doctoral writing. Additionally, they can guide you on how to write a successful dissertation proposal. Finally, they can act as a benchmark for your work and help you to reflect on your progress over time.
Looking for Dissertation Writing Services?
We understand that choosing the right dissertation writing assistance can be daunting, so we make it easy for you to find what you're looking for. You should always see the feature detailed descriptions of each service a dissertation writing service offers, as well as user reviews from other customers.
For the best assignment writing services, look no further than Research Prospect! They offer the best dissertation writing services in the business, and their team of experienced writers is dedicated to providing high-quality work that meets your needs.
Whether you need help completing your research paper quickly and efficiently or you need help developing a comprehensive thesis proposal, their team of experts can help. In addition, they have a wide range of services available, so whether you need help with grammar or content, Research Prospect can provide you with the assistance you need.