Critically Evaluating Your Dissertation
Published by Owen Ingram at January 27th, 2023 , Revised On February 9, 2023
Pursuing undergraduate, Masters, or Ph.D. degree? You cannot expect your tutor to review, edit and improve your dissertation. You're the author of your dissertation, thus it is solely your responsibility to ensure that your dissertation is free of all types of errors.
While reviewing your dissertation, you are likely to come across structural and grammatical errors that you might've made. When you're working, you're much focused on the topic of your research and making sure that whatever you're writing is of high quality.
Correcting your mistakes isn't your priority at that point in time. Reviewing and editing your work gives you a chance to make sure that a flawless final draft is prepared for submission.
Proofreading, editing, and improving your dissertation paper is tricky. The practice can help you create an outstanding dissertation and negligence can weaken the overall quality of your work.
Here are some useful tips as to how you can perfectly edit your dissertation and score an A grade.
Review your Work as a Whole
Once you're done writing and have completed all sections/chapters of your dissertation, go through the dissertation and check for any missing sections. There are high chances that you might not find anything missing in your dissertation at this point in time.
So, here's a tip: Once you've finished with the writing part, DO NOT go through the dissertation the same day. Yes! Your mind is exhausted, and so you might be unable to pick up missing sections and errors.
Relax, and go through your work the next day when your mind is fresh. This way you'll be in a much better position to critically review your work and improve your dissertation.
Compare your work with the outline that you created in the initial stages of writing your dissertation. See if all points, aspects, theories, models have been discussed. This way you'll have a clear idea as to what has been discussed and what has been missed.
Review Each Section
Now that you've reviewed your work as a whole, it is time that you closely review the sections of your dissertation. Not only would this help in analyzing your sections in detail, but it would also help in covering the aspects that you might have left for completion at a later stage.
This is a common practice that, students leave a particular section or a topic to be covered in the end. There are many reasons for this. Some students might be unable to focus on the topic at that time due to various reasons such as lack of available literature.
Thus, they decide to move on and come back to that section at a later stage. This is not a bad practice, instead, it saves time and will help you move on to the next section.
Or else, you might spend hours looking and searching for some piece of information that would present itself as you progress, whereas you would've completed another topic in the given time.
Thus, looking into such aspects, in the end, will offer you appropriate time to research the topic, and there are high chances that you might find something relevant.
Make sure that your sections are in a logical manner and the content in those sections is structured appropriately. Not doing so might confuse your readers and your research might be considered as vague.
Hire an Expert Writer
Orders completed by our expert writers are
Formally drafted in an academic style
Free Amendments and 100% Plagiarism Free – or your money back!
100% Confidential and Timely Delivery!
Free anti-plagiarism report
Appreciated by thousands of clients. Check client reviews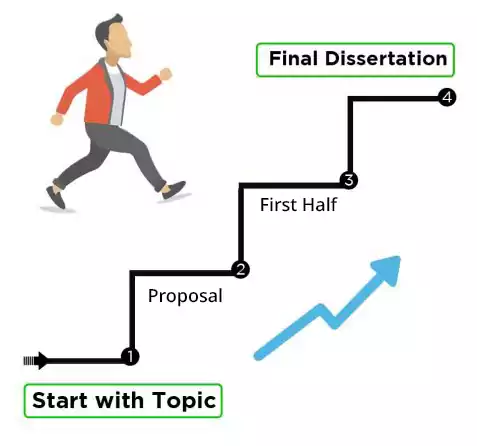 Critical Analysis
You can't get away without a critical analysis of your dissertation! As much you dislike this aspect, critically analyzing your dissertation can work wonders for your research. Not only can it help in improving the quality of your dissertation, but it also creates an incredible impact on your readers.
Analyzing your own work critically is easier said than done, and we at Research Prospect understand that. But, considering certain aspects and looking into them, can definitely help you in understanding how you've tacked your research topic.
You must've received a checklist from your university or college regarding your dissertation. Compare your dissertation with the checklist and see if you have completed all parts in accordance with that checklist. This way you can take a step closer to getting a good grade.
If writing your dissertation has taken up much of your time and you have no time left for a proper critical analysis, and there's no way you could do without it, you may get help from a professional UK based dissertation editing and improvement service.
Research Prospect is one of the most reliable editing and improvement companies that offer dissertation editing services at extremely affordable rates.
Proofreading
Now comes the final part of reviewing and editing your dissertation – proofreading. Not much attention is paid to this practice, but it holds a lot of importance. While writing you might not realize what mistakes you've made, and some errors are overlooked at that time.
Proofreading gives you a chance to go through your work; read each and every sentence; and get rid of errors, mistakes, and typos that you've made while writing. You can even seek professional help in this regard.
Proofreading services are where a team of experts evaluate your work, review and edit it, and also proofread your dissertation. There are chances that you might not find any major issues in your own work. Thus, asking someone to review your work will help you in getting the best results.
Dissertation Proofreading and Editing Services
If you're seeking professional help with regards to dissertation proofreading or editing, get in touch with Research Prospect. We offer extremely reliable and affordable proofreading and editing services.
About Research Prospect
Research Prospect offers help with all types of academic projects. We specialize in completing your dissertations, literature reviews, essays, reports, coursework, exam notes, statistical analysis, primary and empirical research, and case studies.